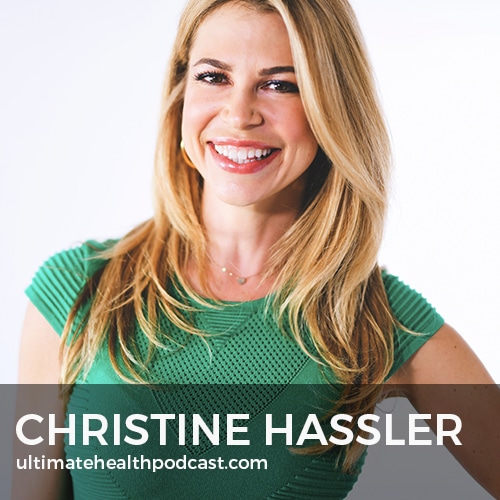 Christine Hassler (IG: @christinehassler) is the bestselling author of three books, most recently Expectation Hangover: Free Yourself From Your Past, Change your Present and Get What you Really Want.
She left her successful job as a Hollywood agent to pursue a life she could be passionate about. For over a decade Christine has been teaching and inspiring people around the world as a keynote speaker, retreat facilitator, spiritual psychologist and life coach, and host of a top-rated podcast. Her appearances include The Today Show, CNN, and The New York Times.
Christine believes once we get out of our own way, we can show up to make the meaningful impact we are here to make.
(Subscribe in Apple Podcasts)
(Subscribe in Google Podcasts)
In this episode, we discuss:
Christine's recent wedding in Greece
How Christine became in touch with her intuition
Being diagnosed with depression at age 11
Getting off anti-depressants
Being addicted to overachieving
Why being a people pleaser is actually selfish
Start setting boundaries
Transitioning to Hollywood
Money & fame won't make you happy
The path of self-discovery
The impact of stress on your health
Expectation Hangover defined
Reaching your full potential
Quit numbing the pain
Fearing uncertainty
Setting goals with high intention, low attachment
The Temper Tantrum Technique
Creative expression helps release emotions
Feel the energy, release the anger
Stop recycling your feelings
Tap into meditation when you need it
Be grateful for challenging moments
Show sponsors:
ButcherBox <== Get 2 lbs of 100% grass-fed ground beef, 2 packs of bacon and $20 off your first box
Thrive Market <== As a new customer you get a free 30-day membership, 25% off your order, and free shipping (US only)
Four Sigmatic <== 15% off all Four Sigmatic products (free shipping on orders $100 or more)
Organifi <== 20% off all Organifi products
Related links:
Christine Hassler – Expectation Hangover (book)
Christine Hassler's website
Follow Christine Hassler on Facebook, Instagram, and Twitter
Over It & On With It with Christine Hassler (podcast)
Christine Hassler's books
Coaches Corner: Ultimate health with Dr. Jesse Chappus and Marni Wasserman (Christine's podcast)
Friday Night Lights – Movie and TV Show
The Hoffman Process
Five Tibetan Rites
Binaural Beats
Related episodes:
303: Emily Fletcher – Stress Less… Accomplish More, Mindfulness vs. Meditation, Secrets To Manifesting
296: Dr. Joe Dispenza – Becoming Supernatural, Reprogram Your Mind, Trust Your Intuition
207: Gretchen Rubin – Are You An Upholder, Questioner, Obliger Or A Rebel?
105: Sharon Salzberg – Real Happiness: The Power Of Meditation
097: John Lee Dumas – A Solid Morning Routine Begins The Night Before • Don't Fall Prey To Imposter Syndrome • Setting and accomplishing BIG goals
Note: Some of the links above are affiliate links. Making a purchase through these links won't cost you anything but we will receive a small commission. This is an easy, free way of supporting the podcast. Thank you!
How can you support our podcast?
1. Apple users, please subscribe and review our show on Apple Podcasts, we make sure to read them all. Android users, be sure to subscribe to our show on Google Podcasts. Subscribers never miss any of the action 😉
2. Tell a friend about The Ultimate Health Podcast. They will surely thank you later. You can use the envelope button below to email a friend or tell them about TUHP in person.
3. Join TUHP Facebook community (FREE). This is where we all stay in touch and ask questions in between episodes. Join our community.
4. Follow our adventures on our favourite social media platform, Instagram.
5. Download The Ultimate Health Podcast app (FREE). This way you'll have our whole library of episodes right at your fingertips. Download our iOS/Apple app or our Android app.
6. Share using the buttons below.
Thank you!