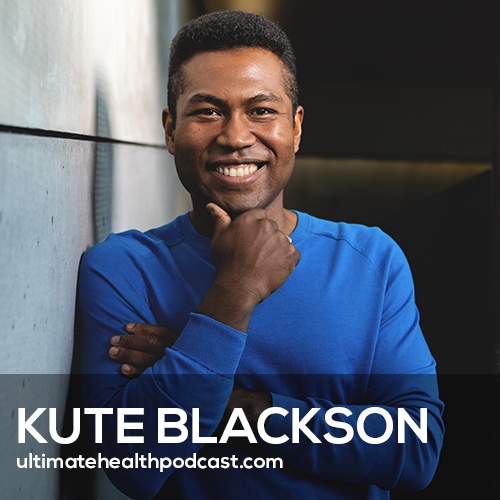 Kute Blackson (IG: @kuteblackson) is a beloved inspirational speaker and transformational teacher. He speaks at countless events he organizes around the world and outside events.
Kute's mission is simple: To awaken and inspire people across the planet to access inner freedom, live authentically and fulfill their true life's purpose.
Today we're discussing his latest book, The Magic of Surrender.
If you're looking to radically transform you life… stick around – this conversion is for you!
Watch the full video version of this conversation below.
In this episode, we discuss:
The process of surrender
What lies am I telling myself?
Pain is a messenger
What action steps did you take to change your reality?
Create time and space in your daily life
The first moments of surrender in Kute's life
What is my soul seeking to create?
Understanding the power of visualization
Stop looking for your purpose
Start where you are
What problem are you uniquely able to solve?
What group of people do you feel a connection with?
Kute recalls coming to America
Kute's calling into personal development
Growing up in a spiritual environment
Love is Kute's religion
Finding spirituality in everyday life
We need to shift our experience with the world
Miracles truly happen
Practicing the miracle mirror exercise
Feeling your death
Show sponsors:
Rancho La Puerta – Use the code RLP-UHP and save $250 off your first 7-night visit at Rancho
Organifi <== 20% off all Organifi products by using the code ultimatehealth at checkout
Paleovalley <== 15% off all Paleovalley products by using the code ultimatehealth at checkout
Related links:
Kute Blackson – The Magic of Surrender (book)
Kute Blackson's website
Follow Kute Blackson on Facebook, Instagram, and YouTube
Kute Blackson – You Are The One (book)
SoulTalk with Kute Blackson (podcast)
Boundless Bliss Bali
Tony Robbins (books)
Deepak Chopra (books)
Listen to Deepak Chopra previously on TUHP (episode #141)
Marianne Williamson (books)
Listen to Marianne Williamson previously on TUHP (episode #277)
Wayne Dyer (books)
Dan Millman (books)
Jack Canfield (books)
Listen to Jack Canfield previously on TUHP (episode #358)
Jim Rohn (books)
Shakti Gawain – Creative Visualization (book)
Jiddu Krishnamurti (books)
Les Brown (books)
Mark Victor Hansen (books)
Stephen Covey (books)
Paramahansa Yogananda – Autobiography of a Yogi (book)
Related episodes:
How to Reach Your Full Potential | Scott Barry Kaufman (#445)
This Simple Habit Will Completely Transform Your Life! | Mel Robbins (#432)
Annaka Harris on What Is Consciousness? Where Is It Located? Mysteries Unravelled (#412)
341: Kamal Ravikant – Love Yourself Like Your Life Depends On It
308: Hal Elrod – The Miracle Equation, Become Emotionally Invincible, Do Work That You Love
Kute Blackson photo credit: Simon Photographic
How can you support our podcast?
1. Apple users, please subscribe and review our show on Apple Podcasts, we make sure to read them all. Android users, be sure to subscribe to our show on Google Podcasts. Subscribers never miss any of the action 😉
2. If you'd prefer to watch vs listen to the interviews, head over to our YouTube channel and enjoy the full video conversations. Be sure and subscribe while you're there.
3. Tell a friend about The Ultimate Health Podcast. They will surely thank you later. You can use the envelope button below to email a friend or tell them about TUHP in person.
4. Join TUHP Facebook community (FREE). This is where we all stay in touch and ask questions in between episodes. Join our community.
5. Follow our adventures on our favourite social media platform, Instagram.
6. Download The Ultimate Health Podcast app (FREE). This way you'll have our whole library of episodes right at your fingertips. Download our iOS/Apple app or our Android app.
7. Share using the buttons below.
Thank you!