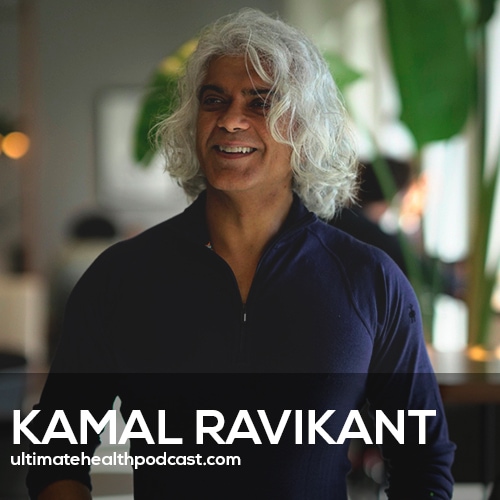 Kamal Ravikant (IG: @kamalravikant) has meditated with monks in the Himalayas, served as a US Army Infantry soldier, and cofounded several companies and a Venture Capital firm in Silicon Valley. But the most transformative thing he's ever done is learn to love himself.
Kamal significantly expanded and re-released his book, Love Yourself Like Your Life Depends On It, early this year.
(Subscribe in Apple Podcasts)
(Subscribe in Google Podcasts)
In this episode, we discuss:
Kamal's near death experience this past October
Being more consciously aware of your thoughts
Kamal's path through med school, Silicon Valley, and the army
Doing the inner work
When you make a vow and commitment to yourself, you keep it
Self-love
Consciously thinking and reinforcing thoughts
When you fall, get back up and give it your all
Kamal's 7 minute meditation practice
What is the mirror practice?
If you love myself truly and deeply would you let yourself experience this?
Tracking your progress
Make fitness & nutrition a part of your life
Studying in Nepal with Buddhist monks
Our bodies are designed to move
Planting the flowers
Show sponsors:
Organifi <== 20% off all Organifi products
Beekeeper's Naturals <== 15% off all Beekeeper's Naturals products (free shipping on orders $60 or more)
Sunwarrior <== 20% off all Sunwarrior products & free shipping over $50 (US only)
Perfect Keto <== 20% off all Perfect Keto products (free shipping in the US)
Related links:
Kamal Ravikant – Love Yourself Like Your Life Depends On It (book)
Kamal Ravikant's website
Follow Kamal Ravikant on Facebook, Instagram, and Twitter
Kamal Ravikant – Rebirth (book)
Kamal Ravikant – Live Your Truth (book)
I'm Planting Flowers (comic)
Related episodes:
333: Dr. Daniel Amen – Optimize Your Brain, Automatic Negative Thoughts, Eliminating Caffeine
321: Neil Pasricha – You Are Awesome, Intentional Living, Becoming Anti-Fragile
308: Hal Elrod – The Miracle Equation, Become Emotionally Invincible, Do Work That You Love
296: Dr. Joe Dispenza – Becoming Supernatural, Reprogram Your Mind, Trust Your Intuition
142: Dr. Bruce Lipton – The Biology Of Belief • How To Reprogram Your Subconscious Mind • The Importance Of Loving Yourself
Note: Some of the links above are affiliate links. Making a purchase through these links won't cost you anything but we will receive a small commission. This is an easy, free way of supporting the podcast. Thank you!
How can you support our podcast?
1. Apple users, please subscribe and review our show on Apple Podcasts, we make sure to read them all. Android users, be sure to subscribe to our show on Google Podcasts. Subscribers never miss any of the action 😉
2. Tell a friend about The Ultimate Health Podcast. They will surely thank you later. You can use the envelope button below to email a friend or tell them about TUHP in person.
3. Join TUHP Facebook community (FREE). This is where we all stay in touch and ask questions in between episodes. Join our community.
4. Follow our adventures on our favourite social media platform, Instagram.
5. Download The Ultimate Health Podcast app (FREE). This way you'll have our whole library of episodes right at your fingertips. Download our iOS/Apple app or our Android app.
6. Share using the buttons below.
Thank you!