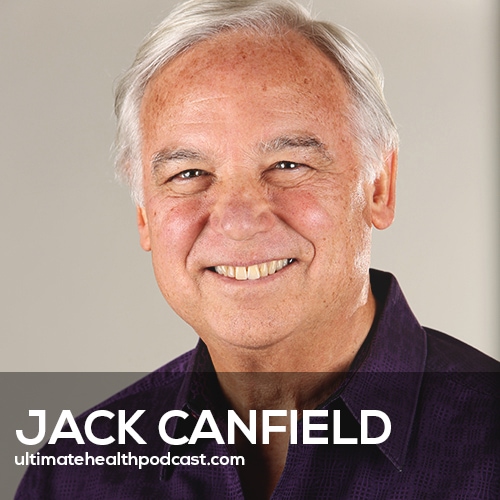 Jack Canfield (IG: @jackcanfield_official) is the co-creator of the Chicken Soup for the Soul series. He has developed 42 New York Times bestsellers, and holds a Guinness Book World Record for having seven books on the New York Times bestseller list at once.
Known as "America's #1 Success Coach," Jack has studied and reported on what makes successful people different. Over the last 40 years, his compelling message, empowering energy and personable coaching style has helped hundreds of thousands of individuals achieve their dreams.
(Subscribe in Apple Podcasts)
(Subscribe in Google Podcasts)
In this episode, we discuss:
Being instilled with good works habits as a kid
Teaching kids to be motivated and have self-esteem
Success is not a 4-letter word
Continuing to grow through personal development
The drive to pursue excellence
Allowing yourself to pursue your passions
What is my purpose?
Eliminating 1 hour of TV a day
How virtual training has increased due to COVID-19
People want to see the real authentic you on social media
Ordinary people doing extraordinary things
The power of story to engage people
Don't give up on your dreams
The success behind Chicken Soup for the Soul
You have to take 100% responsibility
Working hard but making time to slow down
Why Jack transitioned to a plant-based lifestyle
The most important 45 minutes of the day
What is the mirror exercise?
Be ultimate in every way
Show sponsors:
Organifi <== 20% off all Organifi products
Sunwarrior <== 20% off all Sunwarrior products & free shipping over $50 (US only)
Beekeeper's Naturals <== 15% off all Beekeeper's Naturals products (free shipping on orders $60 or more)
Sleep On Latex <== All mattresses ship same day and can be returned for free within 100 days
Related links:
Jack Canfield – The Success Principles Workbook
Jack Canfield – The Success Principles – 10th Anniversary Edition (book)
Jack Canfield's website
Follow Jack Canfield on Facebook, Instagram, and YouTube
Jack Canfield's books
Napoleon Hill – Think and Grow Rich (book)
W. Clement Stone (books)
Tony Robbins (books)
John Gray (books)
Listen to John Gray previously on TUHP (episode #194)
Booker T. Washington (books)
Mark Victor Hansen (books)
Richard Fenton – Go For No! (book)
Related episodes:
327: Eric Thomas – The Secret To Success, Learn By Teaching, We All Need Inspiration
308: Hal Elrod – The Miracle Equation, Become Emotionally Invincible, Do Work That You Love
245: Geneen Roth – This Messy Magnificent Life • Seeing Extraordinary In The Ordinary • Stop Complaining
239: Neil Strauss – The Long Road To Success • Compartmentalize Your Week • Your Community Shapes You
021: Jordan Harbinger – The Art of Charm, People Skills Matter Most, Passion Doesn't Equal Success
Note: Some of the links above are affiliate links. Making a purchase through these links won't cost you anything but we will receive a small commission. This is an easy, free way of supporting the podcast. Thank you!
How can you support our podcast?
1. Apple users, please subscribe and review our show on Apple Podcasts, we make sure to read them all. Android users, be sure to subscribe to our show on Google Podcasts. Subscribers never miss any of the action 😉
2. Tell a friend about The Ultimate Health Podcast. They will surely thank you later. You can use the envelope button below to email a friend or tell them about TUHP in person.
3. Join TUHP Facebook community (FREE). This is where we all stay in touch and ask questions in between episodes. Join our community.
4. Follow our adventures on our favourite social media platform, Instagram.
5. Download The Ultimate Health Podcast app (FREE). This way you'll have our whole library of episodes right at your fingertips. Download our iOS/Apple app or our Android app.
6. Share using the buttons below.
Thank you!