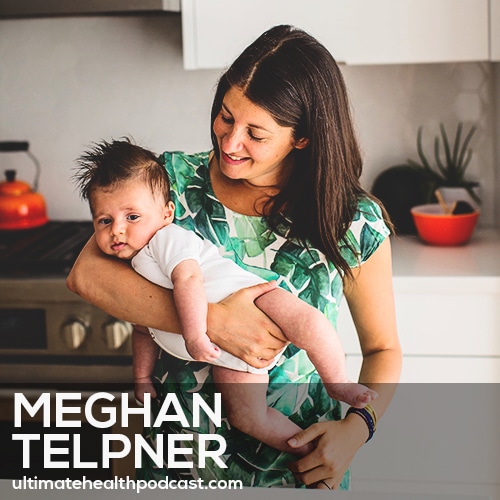 Meghan Telpner is a Toronto-based author, speaker, nutritionist, and founder of the Academy of Culinary Nutrition who's been ranked as one of the top 100 female entrepreneurs in Canada. She's written two bestselling books: UnDiet: Eat Your Way to Vibrant Health and The UnDiet Cookbook.
In this episode, we discuss:
The eternal pregnancy
The importance of preconception planning
Detoxing before getting pregnant (women & men)
Nobody talks about miscarriages
Eating 100% organic during preconception (and beyond)
Recruiting an amazing pregnancy team
Giving birth is the greatest physical feat of your lifetime
The role of a doula and a midwife
Every pregnant woman must go visit a pelvic floor therapist
Pregnancy is unpredictable
Birthing your child is simultaneously the most selfless and selfish act, of your life
Traumatic births can cause PTSD
Focusing on healing after giving birth
Considering cosleeping?
Balancing being a new Mom and an entrepreneur
Saying no to good so you can say yes to great
You can never plan for the unknown
The unexpected feelings of being a new Mom
Show sponsors:
CoreChair <== 15% off your CoreChair purchase by using the code tuhpcc at checkout (free shipping in North America)
Thrive Market <== Get your membership for as low as $5 a month & receive $20 in shopping credit with a 1 year membership (US only)
Perfect Keto <== 20% off Perfect Keto products and they ship worldwide (free shipping in the US)
Sunwarrior <== 20% off all Sunwarrior products & free shipping over $50 (US only)
Related links:
Meghan Telpner – UnDiet (book)
Meghan Telpner – The UnDiet Cookbook (book)
Meghan Telpner's website
Follow Meghan Telpner on Facebook, Instagram, and YouTube
Sign up for Meghan's Culinary Nutrition Expert Program (CNE)
Listen to Meghan Telpner previously on TUHP (episode #25, #91, & #146)
Josh Gitalis' website
Listen to Josh Gitalis previously on TUHP (episode #4, #80, & #146)
Our Birth Story: Where Nothing Goes As We'd Planned (Meghan's blog)
Miscarriages Happen and It's Okay. Here's What No One Talks About. (Meghan's blog)
40 Natural Solutions To Pregnancy Symptoms (Meghan's blog)
My Prenatal Library: Best Books For A Natural Pregnancy and Birth (Meghan's blog)
My Top 25 Essentials for New Moms and Babies (Meghan's blog)
Why "Mom Guilt" Is Total Nonsense (Meghan's blog)
Listen to Nadine Artemis previously on TUHP (episode #41, #88, #188)
Sally Fallon Morell – The Nourishing Traditions Book of Baby & Child Care (book)
The Weston A. Price Foundation
Roy Dittmann – Brighton Baby (book)
EPI-NO Delphine Plus
The Ab System
Heng Ou – The First Forty Days (book)
Evidence Based Birth (website)
Sarah Buckley – Gentle Birth, Gentle Mothering (book)
Related episodes:
329: Dr. Shefali Tsabary – Conscious Parenting, Vipassana Meditation, Letting Go Of Perfection
315: Genevieve Howland aka Mama Natural – Preparing For A Healthy Pregnancy & Childbirth
251: Dr. Sarah Buckley – Gentle Birth, Gentle Mothering • Preconception Planning • The Role Of Oxytocin
206: Josh Gitalis – Support During Pregnancy • Boost Your Immunity • Testing For Heavy Metals
Note: Some of the links above are affiliate links. Making a purchase through these links won't cost you anything but we will receive a small commission. This is an easy, free way of supporting the podcast. Thank you!
How can you support our podcast?
1. Apple users, please subscribe and review our show on Apple Podcasts, we make sure to read them all. Android users, be sure to subscribe to our show on Google Podcasts. Subscribers never miss any of the action 😉
2. Tell a friend about The Ultimate Health Podcast. They will surely thank you later. You can use the envelope button below to email a friend or tell them about TUHP in person.
3. Join TUHP Facebook community (FREE). This is where we all stay in touch and ask questions in between episodes. Join our community.
4. Follow our adventures on our favourite social media platform, Instagram.
5. Download The Ultimate Health Podcast app (FREE). This way you'll have our whole library of episodes right at your fingertips. Download our iOS/Apple app or our Android app.
6. Share using the buttons below.
Thank you!