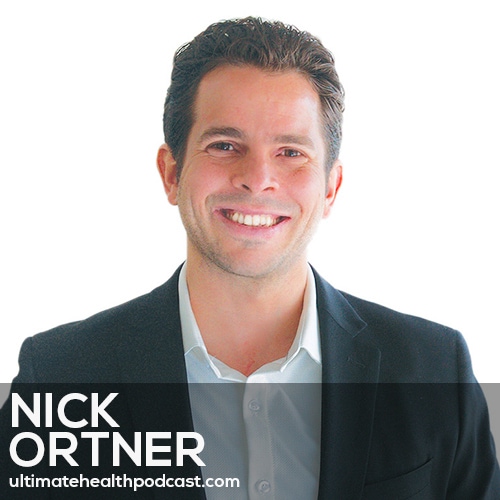 Nick Ortner is the New York Times Bestselling Author of "The Tapping Solution" and he's the executive producer of the documentary by the same name. Tapping is a healing modality that combines ancient Chinese acupressure and modern psychology. Nick's goal is to empower people to create healthy, abundant and stress-free lives through his books, films, CDs, online events and speaking engagements.
In this episode, we discuss:
Why Nick passed on meeting the Dahli Lama
Not feeling guilty after passing on an opportunity
How Nick first stumbled upon tapping or emotional freedom technique (EFT)
What does tapping look like?
Tapping works for physical pain, anxiety, stress, and overwhelm
Tapping also works for financial challenges and weight loss
Are there times when tapping isn't a good fit?
"If you want to clean a house, you have to see the dirt"
You can become your greatest self at any age, weight, income level, and relationship status
Your greatest self doesn't equal perfection
What charges you up and what depletes you?
The connection between tapping and goals
Celebrating the small wins along the way
Celebrate something you accomplished 10 years ago
Small things can enhance our lives
Give yourself a pinch more of self-love every day
The negativity bias and how to move past it
The most common areas people are leaking energy
When to say yes and when to say no
Show sponsors:
CoreChair <== Apply the code tuhpcc at checkout for your listener discount (free shipping in North America)*
Sunwarrior <== 10% off all Sunwarrior products & free shipping over $100*
Perfect Keto <== 20% off Perfect Keto products and they ship worldwide (free shipping in the US)*
Thrive Market <== As a new customer you get a free 30-day membership, 25% off your first order, and free shipping (US only)*
Related links:
Nick Ortner – The Tapping Solution for Manifesting Your Greatest Self (book)*
Nick Ortner – The Tapping Solution (book)*
Nick's whole lineup of books*
The Tapping Solution (DVD)*
The Tapping Solution website
Follow Nick on Instagram and Facebook
Louise Hay – You Can Heal Your Life (book)*
Tony Robbins*
Wayne Dyer*
Listen to Danielle LaPorte previously on TUHP (episode #184)
Susan Cain – Quiet (book)*
Listen to the 1st episode of TUHP – Welcome To The Ultimate Health Podcast
Note: Links marked with an asterisk (*) are affiliate links. Making a purchase through these links won't cost you anything but we will receive a small commission. This is an easy, free way of supporting the podcast. Thank you!
How can you support our podcast?
1. Apple users, please subscribe and review our show on iTunes, we make sure to read them all. Android users, be sure to subscribe to our show on Google Play Music. Subscribers never miss any of the action 😉
2. Tell a friend about The Ultimate Health Podcast. They will surely thank you later. You can use the envelope button below to email a friend or tell them about TUHP in person.
3. Join TUHP Facebook group (FREE). This is where we all stay in touch and ask questions in between episodes. Join our community.
4. Our favourite social media platform is Instagram. Follow our adventures.
5. Download our Habits app for iOS. You choose the healthy habits you want to implement and maintain and our app will help keep you on track. Download Habits app*.
6. Share using the buttons below.
Thank you!