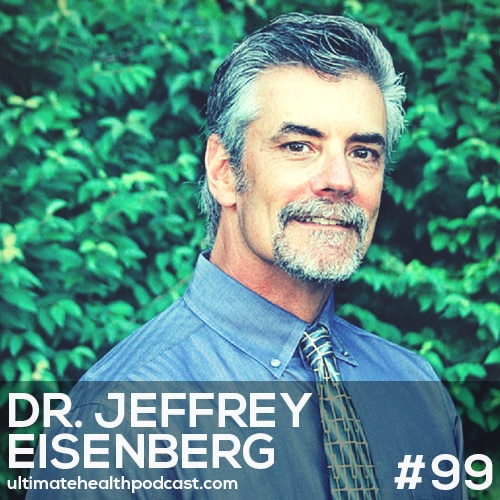 Today's guest is Dr. Jeffrey Eisenberg, a pediatrician who specializes in the evaluation and management of attention deficit disorder, anxiety, depression, and obesity. Additionally, he consults patients in the disciplines of exercise physiology and nutrition.
Jeffrey is the author of Suckered: The History of Sugar, Our Toxic Addiction, Our Power to Change.
In this episode, we discuss:
Sugar, the origin story
One of the biggest health scams of the last 50 years
Do you have metabolic syndrome?
Fructose, the Darth Vader of the sugar molecule
Are natural sugars like maple syrup, honey, and molasses good for you?
Sugar in fruit isn't the enemy
It's time to ditch agave, once and for all
How you body reacts when you consume sugar
Don't get fooled by hidden sugars
Why we're attracted to bright foods
If you are overweight, it's not your fault and the metabolic pathway that explains this
The preferred fuel for the human body is fat
Why companies choose to use high fructose corn syrup (HFCS) instead of sugar
When you consume sugar, your brain lights up like a pinball machine
It's hard to gradually come off sugar
Symptoms you may experience when coming off sugar
The impact of artificial sweeteners on the brain
Stevia, a healthy sweetener without any negative side effects
Things that shorten your telomeres
Start making more meals at home
The 3 things you need to get right in life
Related links:
Dr. Jeffrey Eisenberg – Suckered (book)
Connect with Dr. Eisenberg
Listen to TUHP episode 017: Sugar Addiction, Say Goodbye To Aspartame, Balance Your Blood Sugar
Related episodes:
196: Sarah Wilson – I Quit Sugar • Living As A Nomad • A New Way To Look At Balance
197: Focus Friday – How We Quit Sugar
056: Alex Jamieson – Cravings vs. Hunger | Sugar Kills Libido | Have Fun In Your Body
017: Sugar Addiction, Say Goodbye To Aspartame, Balance Your Blood Sugar
281: Vani Hari aka Food Babe – Feeding You Lies • Non-GMO vs. Organic • Life As A New Mom
Note: Some of the links above are affiliate links. Making a purchase through these links won't cost you anything but we will receive a small commission. This is an easy, free way of supporting the podcast. Thank you!
How can you support our podcast?
1. Apple users, please subscribe and review our show on Apple Podcasts, we make sure to read them all. Android users, be sure to subscribe to our show on Google Podcasts. Subscribers never miss any of the action 😉
2. Tell a friend about The Ultimate Health Podcast. They will surely thank you later. You can use the envelope button below to email a friend or tell them about TUHP in person.
3. Join TUHP Facebook community (FREE). This is where we all stay in touch and ask questions in between episodes. Join our community.
4. Follow our adventures on our favourite social media platform, Instagram.
5. Download The Ultimate Health Podcast app (FREE). This way you'll have our whole library of episodes right at your fingertips. Download our iOS/Apple app or our Android app.
6. Share using the buttons below.
Thank you!