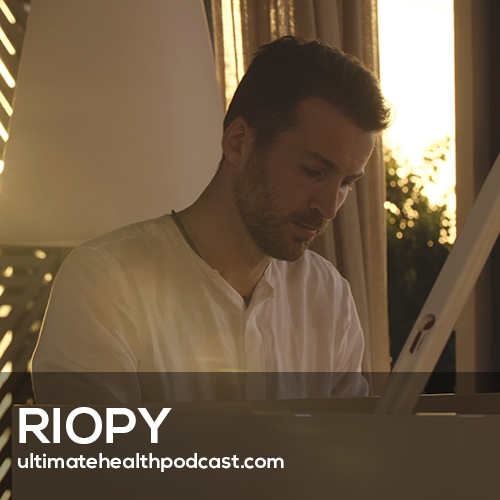 Jean-Philippe Rio-Py known professionally as RIOPY (IG: @riopymusic) is a chart topping Franco-British pianist, music composer, producer and songwriter. His music has been featured in movie trailers, feature films and documentaries.
RIOPY's recordings have received 200 million streams worldwide making him one of the most listened to contemporary pianists in the world.
RIOPY had a long standing struggle with depression until a few years ago when he was able to overcome it naturally. We cover a number of his health and wellness strategies throughout our conversation.
If you or someone you know is suffering from depression – you'll want to stick around and hear what RIOPY did to free himself from his internal pain.
Watch the full video version of this conversation below.
In this episode, we discuss:
RIOPY discovering the piano at age 2
Growing up in a cult
How life evolved after leaving the cult
Finding a way to heal depression
Music as a coping mechanism
Music saving RIOPY the first time and meditation the second
What are binaural beats?
Neuroplasticity: you can rewire your brain
How do we control the mind?
Hitting rock bottom was the catalyst for change
RIOPY's daily routine
Everything affects your brain
Fasting improves meditation
Binaural beats aid meditation
Music is an extremely powerful tool
How eating healthy affects your body & mind in a positive way
The power of performing for a live audience
The act of creation
Meditation can save the world
The benefits of tuning to 432 Hz
The positive impact of the Bliss album
Show sponsors:
LMNT <== Get your LMNT Sample Pack for the cost of shipping (5 dollars in the US)
Organifi <== 20% off all Organifi products by using the code ultimatehealth at checkout
Related links:
RIOPY – Bliss
RIOPY's website
Follow RIOPY on Facebook, Instagram, and YouTube
RIOPY's music (Apple Music)
Robert Monroe Institute ​​
Dr. Norman Doidge – The Brain That Changes Itself (book)
Dr. Joe Dispenza – Becoming Supernatural (book)
Listen to Dr. Joe Dispenza previously on TUHP (episode #296)
Listen to Dr. Bruce Lipton previously on TUHP (episodes #142 and #240)
Dr. Paul Bach-y-Rita
Calm (app)
Jamie Wheal & Steven Kotler – Stealing Fire (book)
Listen to Steven Kotler previously on TUHP (episode #388)
Related episodes:
Moby on How to Find True Happiness in the Unexpected (#436)
Dr. Caroline Leaf on Eliminating Anxiety, Depression, and Intrusive Thoughts by Managing Your Mind (#402)
382: Dr. Pedram Shojai – Becoming A Taoist Monk, Meditation Is the Ultimate Drug, Managing Your Life Garden
259: Dr. Gabor Maté – Trauma, Addiction, & The Use Of Psychedelics
233: Aubrey Marcus – Own The Day, Own Your Life • Get Weird With Lunch • Start With The Hardest Thing First
How can you support our podcast?
1. Apple users, please subscribe and review our show on Apple Podcasts, we make sure to read them all. Android users, be sure to subscribe to our show on Google Podcasts. Subscribers never miss any of the action 😉
2. If you'd prefer to watch vs listen to the interviews, head over to our YouTube channel and enjoy the full video conversations. Be sure and subscribe while you're there.
3. Tell a friend about The Ultimate Health Podcast. They will surely thank you later. You can use the envelope button below to email a friend or tell them about TUHP in person.
4. Join TUHP Facebook community (FREE). This is where we all stay in touch and ask questions in between episodes. Join our community.
5. Follow our adventures on our favourite social media platform, Instagram.
6. Download The Ultimate Health Podcast app (FREE). This way you'll have our whole library of episodes right at your fingertips. Download our iOS/Apple app or our Android app.
7. Share using the buttons below.
Thank you!