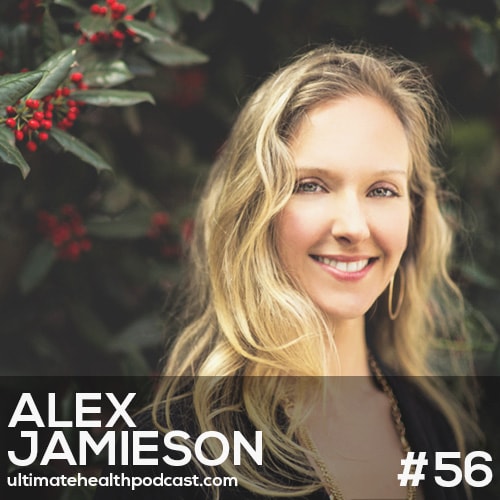 On this week's show, we are speaking with transformation health expert, Alex Jamieson. You may remember her from the Oscar-nominated documentary, Super Size Me. She co-created and co-starred in this film.
More recently, Alex published the #1 bestselling book, Women, Food, and Desire. This powerful book dares us to face our cravings head-on with the end goal of living full, meaningful, and joyful life. She is the host of the popular health podcast, The Crave Cast.
Alex has appeared on Oprah, CNN, Fox News and a host of other top media outlets.
In this episode, we discuss:
Alex's early years and her addiction to sugar
Super Size Me, getting sick on McDonald's food
BIG health changes take time
When it comes to diet, you need to listen to your body
Coming out as no longer vegan
Cravings are a request from your body
Deciphering between cravings and hunger
The emotional connection women have with food
The human body needs physical pleasure and touch to thrive
Men also have emotional food cravings and addictions just on a smaller scale
A healthy diet leads to less cravings
The 4 root causes of cravings
To be human is to crave
Sugar = decreased testosterone which kills libido
Low carb diets can cause insomnia
Getting women more comfortable in their own skin
Having fun in your body
Bye bye fad diets and eating more intuitively
We mirror the people that surround us
Calm inflammation in your body by removing 6 foods
Your gut health is the seat of your health
Is it terrible to eat before bed?
Masturbation and sex feeds your body and your life
Related links:
Sunwarrior <== 20% off all Sunwarrior products & free shipping over $50 (US only)
Alex Jamieson – Women, Food, and Desire (book)
Alex Jamieson's website
Follow Alexandra Jamieson on Facebook, Instagram, and Twitter
Alex's cravings chart
Alex Jamieson – The Great American Detox Diet (book)
Alex Jamieson – Vegan Cooking For Dummies (book)
Alex Jamieson – Living Vegan For Dummies (book)
Alex Jamieson – The Crave Cast (podcast)
Natural Gourmet Institute
Super Size Me (documentary)
John Robbins – Diet For A New America (book)
Brené Brown (books)
Dan Savage – Savage Lovecast (podcast)
abc kitchen (restaurant)
Related episodes:
196: Sarah Wilson – I Quit Sugar • Living As A Nomad • A New Way To Look At Balance
118: Yuri Elkaim – The All-Day Energy Diet • Sugar, Gluten, & Caffeine Are Draining You • Exercising For Energy
259: Dr. Gabor Maté – Trauma, Addiction, & The Use Of Psychedelics
099: Dr. Jeffrey Eisenberg – Suckered: The History Of Sugar, Our Toxic Addiction, Our Power To Change
049: Dr. Yoni Freedhoff – Embracing Imperfection | Stop Blaming The Food Industry | Staying Ahead Of Food Cravings
Note: Some of the links above are affiliate links. Making a purchase through these links won't cost you anything but we will receive a small commission. This is an easy, free way of supporting the podcast. Thank you!
How can you support our podcast?
1. Apple users, please subscribe and review our show on Apple Podcasts, we make sure to read them all. Android users, be sure to subscribe to our show on Google Podcasts. Subscribers never miss any of the action 😉
2. Tell a friend about The Ultimate Health Podcast. They will surely thank you later. You can use the envelope button below to email a friend or tell them about TUHP in person.
3. Join TUHP Facebook community (FREE). This is where we all stay in touch and ask questions in between episodes. Join our community.
4. Follow our adventures on our favourite social media platform, Instagram.
5. Download The Ultimate Health Podcast app (FREE). This way you'll have our whole library of episodes right at your fingertips. Download our iOS/Apple app or our Android app.
6. Share using the buttons below.
Thank you!