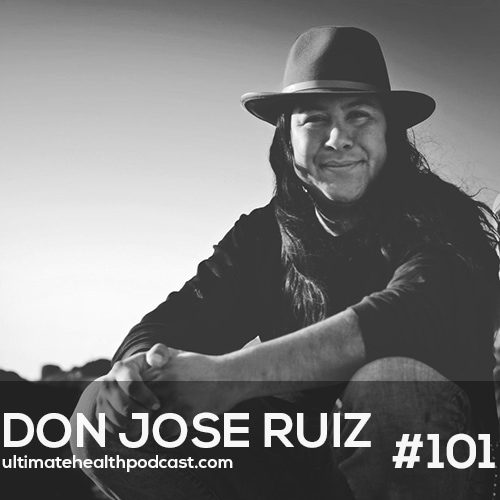 Today our featured guest is don Jose Ruiz who coauthored The Fifth Agreement with his father don Miguel Ruiz. He's dedicated his life to sharing the ancient Toltec wisdom by translating it into practical, everyday life concepts that promote transformation through truth, love and common sense.
In this episode, we discuss:
The Toltec tradition is based on gratitude to be alive
The Four Agreements
Be impeccable with your word
Don't take anything personally
Don't make assumptions
Always do your best
The most challenging of The Four Agreements
The Fifth Agreement
Be skeptical, but learn to listen
Being skeptical doesn't necessarily have a negative connotation
Real happiness lies within you
We all perceive the same things in life, differently
We've been domesticated and how to reverse this
There are two languages being spoken in this world… positivity and negativity
Life is a vacation, how are you going to spend your vacation?
You can never walk away from yourself
You're the love of your life
We're all artists, creating art, whether you're aware of it or not
Related links:
Sunwarrior <== 20% off all Sunwarrior products & free shipping over $50 (US only)
don Miguel Ruiz & don Jose Ruiz – The Fifth Agreement (book)
don Jose Ruiz's website (don Miguel Ruiz)
Follow don Jose Ruiz on Facebook, Instagram, and Twitter
don Miguel Ruiz – The Four Agreements (book)
don Miguel Ruiz Jr. – The Five Levels of Attachment (book)
don Miguel Ruiz Jr. – The Mastery of Self (book)
Willow (movie)
Related episodes:
282: don Miguel Ruiz – The Three Questions • Stop Believing Your Thoughts • Normal vs. Irrational Fear
269: don Miguel Ruiz Jr – The Seven Secrets To Healthy, Happy Relationships
111: don Miguel Ruiz Jr – The Mastery of Self • Unconditional vs. Conditional Love • Enjoy Your Breath
306: Haemin Sunim – Let Go Of Perfectionism, Combat Depression, Take Things Slowly
182: Pedram Shojai – Time Is Our Most Valuable Gift • The Art Of The To-Do List • Smile More 🙂
Note: Some of the links above are affiliate links. Making a purchase through these links won't cost you anything but we will receive a small commission. This is an easy, free way of supporting the podcast. Thank you!
How can you support our podcast?
1. Apple users, please subscribe and review our show on Apple Podcasts, we make sure to read them all. Android users, be sure to subscribe to our show on Google Podcasts. Subscribers never miss any of the action 😉
2. Tell a friend about The Ultimate Health Podcast. They will surely thank you later. You can use the envelope button below to email a friend or tell them about TUHP in person.
3. Join TUHP Facebook community (FREE). This is where we all stay in touch and ask questions in between episodes. Join our community.
4. Follow our adventures on our favourite social media platform, Instagram.
5. Download The Ultimate Health Podcast app (FREE). This way you'll have our whole library of episodes right at your fingertips. Download our iOS/Apple app or our Android app.
6. Share using the buttons below.
Thank you!