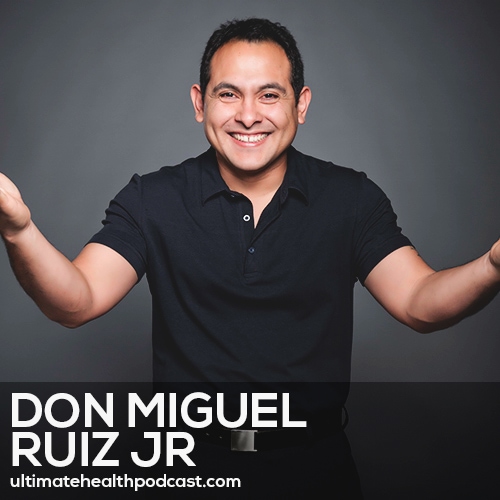 don Miguel Ruiz Jr (IG: @donmiguelruizjr) is a Toltec Master of Transformation and a direct descendant of the Toltecs. By combining the wisdom of his family's traditions with the knowledge gained from his own personal journey, he now helps others realize their own path to personal freedom.
Miguel's latest book is The Seven Secrets to Healthy, Happy Relationships coauthored with HeatherAsh Amara.
In this episode, we discuss:
The beauty of unconditional love
What is domestication?
The Four Agreements
Conditional love is a consequence of domestication
Break up with your judge
Commit to yourself
Don't take others for granted
No is just as powerful as yes
Letting go of fear
The secret to awareness
Create personal freedom
The ability to understand one another
Relationships are constantly evolving
Finding common ground
The ability to separate issues from love
Get to know your triggers
Be honest with the people around you
Give yourself permission to heal
Guilt vs. remorse
Forgiveness is the final step for healing
Show sponsors:
Four Sigmatic <== 15% off all Four Sigmatic products (free shipping on orders $100 or more)
CoreChair <== 15% off your CoreChair purchase by using the code tuhpcc at checkout (free shipping in North America)
Thrive Market <== Get your membership for as low as $5 a month & receive $20 in shopping credit with a 1 year membership (US only)
Sunwarrior <== 20% off all Sunwarrior products & free shipping over $50 (US only)
Related links:
don Miguel Ruiz Jr & HeatherAsh Amara – The Seven Secrets to Healthy, Happy Relationships (book)
don Miguel Ruiz Jr's website
Follow don Miguel Ruiz Jr on Facebook, Instagram, and Twitter
don Miguel Ruiz Jr – Little Book of Wisdom
don Miguel Ruiz Jr – The Mastery of Self (book)
don Miguel Ruiz Jr – The Five Levels of Attachment (book)
Listen to Don Miguel Ruiz Jr previously on TUHP (episode #111)
HeatherAsh Amara's website
Related episodes:
282: don Miguel Ruiz – The Three Questions • Stop Believing Your Thoughts • Normal vs. Irrational Fear
221: Dr. John Demartini – The Power Of Delegation • Fear Is A Gift • Healthy Romantic Relationships
217: Melissa Ambrosini – Rocking Relationships • Open Wide • Vulnerability Is Vital
216: Focus Friday – Healthy Relationships
101: don Jose Ruiz – The Fifth Agreement: Be Skeptical, But Learn To Listen
Note: Some of the links above are affiliate links. Making a purchase through these links won't cost you anything but we will receive a small commission. This is an easy, free way of supporting the podcast. Thank you!
How can you support our podcast?
1. Apple users, please subscribe and review our show on Apple Podcasts, we make sure to read them all. Android users, be sure to subscribe to our show on Google Podcasts. Subscribers never miss any of the action 😉
2. Tell a friend about The Ultimate Health Podcast. They will surely thank you later. You can use the envelope button below to email a friend or tell them about TUHP in person.
3. Join TUHP Facebook community (FREE). This is where we all stay in touch and ask questions in between episodes. Join our community.
4. Follow our adventures on our favourite social media platform, Instagram.
5. Download The Ultimate Health Podcast app (FREE). This way you'll have our whole library of episodes right at your fingertips. Download our iOS/Apple app or our Android app.
6. Share using the buttons below.
Thank you!