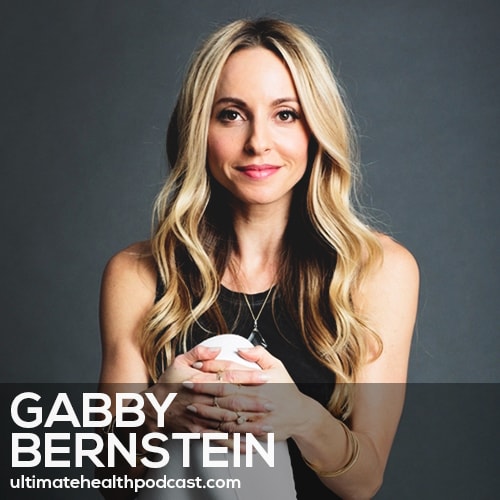 Gabby Bernstein is the #1 New York Times bestselling author of The Universe Has Your Back and has written five additional bestsellers. She was featured on Oprah's SuperSoul Sunday as a "next-generation thought leader," and The New York Times named her "a new role model." Gabby appears regularly as an expert on The Dr. Oz Show and co-hosted the Guinness World Record largest guided meditation with Deepak Chopra.
In this episode, we discuss:
Gabby before becoming a spiritual teacher
The outside search for happiness, well-being, and self-worth… never works
Cultivating a tribe through vulnerability and a willingness to tell the truth
Why do we avoid being vulnerable?
Gabby's key to freedom
Compassionately loving yourself… even when you screw up
The judgments we have are often a reflection of the wounds we've been carrying
Emotional Freedom Technique (EFT)/Tapping
Temporarily getting high off of gossip
The judgment cycle
Our ego is fed and fuelled by our wounds
Separation from the truth of who we are
Can judgment be useful or helpful?
Using suggestion instead of pushing someone to change
Judgment related to social media
Seeing someone for the first time
Cutting the cord through the practice of meditation
Gabby learned how to meditate from her Mom at age 16
Starting to utilize forgiveness as a practice
Forgiveness is for you
Gabby's morning routine and how she winds down at night
Decide who you want to be
Show sponsors:
Raw Elements <== 10% off all Raw Elements products – Apply the code TUHP at checkout (free shipping over $100)
Thrive Market <== Get your membership for as low as $5 a month & receive $20 in shopping credit with a 1 year membership (US only)
Perfect Keto <== 20% off Perfect Keto products and they ship worldwide (free shipping in the US)
Sunwarrior <== 20% off all Sunwarrior products & free shipping over $50 (US only)
Related links:
Gabrielle Bernstein – Judgment Detox (book)
Gabrielle Bernstein – Judgment Detox Journal (book)
Gabby Bernstein's website
Follow Gabby Bernstein on Facebook, Instagram, and Twitter
Gabby Bernstein's The Secret To Living A Better Life Digital Course
Gabrielle Bernstein – Add More Ing to Your Life (book)
Gabrielle Bernstein – The Universe Has Your Back (book)
Gabrielle Bernstein – Miracles Now (book)
Gabrielle Bernstein – May Cause Miracles (book)
Gabrielle Bernstein – Spirit Junkie (book)
Listen to Nick Ortner previously on TUHP (episode #186)
Listen to Deepak Chopra previously on TUHP (episode #141)
BioMat
Related episodes:
310: Seane Corn – Revolution Of The Soul, Yoga Is An Art, Understanding The Chakras
305: Dave Asprey – Game Changers, Practicing Gratitude & Forgiveness, Holotropic Breathing vs. Ayahuasca
303: Emily Fletcher – Stress Less… Accomplish More, Mindfulness vs. Meditation, Secrets To Manifesting
282: don Miguel Ruiz – The Three Questions • Stop Believing Your Thoughts • Normal vs. Irrational Fear
235: Lori Harder – A Tribe Called Bliss • No Boundaries = Anxiety & Resentment • Stop Gossiping
Note: Some of the links above are affiliate links. Making a purchase through these links won't cost you anything but we will receive a small commission. This is an easy, free way of supporting the podcast. Thank you!
How can you support our podcast?
1. Apple users, please subscribe and review our show on Apple Podcasts, we make sure to read them all. Android users, be sure to subscribe to our show on Google Podcasts. Subscribers never miss any of the action 😉
2. Tell a friend about The Ultimate Health Podcast. They will surely thank you later. You can use the envelope button below to email a friend or tell them about TUHP in person.
3. Join TUHP Facebook community (FREE). This is where we all stay in touch and ask questions in between episodes. Join our community.
4. Follow our adventures on our favourite social media platform, Instagram.
5. Download The Ultimate Health Podcast app (FREE). This way you'll have our whole library of episodes right at your fingertips. Download our iOS/Apple app or our Android app.
6. Share using the buttons below.
Thank you!