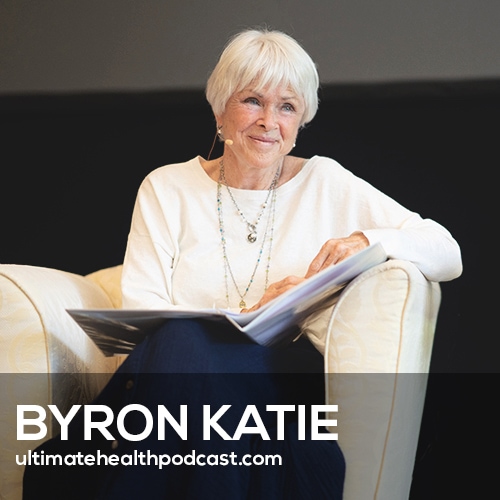 In 1986, at the bottom of a ten-year spiral into depression and self-loathing, Byron Katie (IG: @byron.katie) woke up one morning in a state of joy. She realized that when she believed her stressful thoughts, she suffered, but that when she questioned them, she didn't suffer, and that this is true for every human being.
Her simple yet powerful process of self-inquiry, which she calls The Work, consists of four questions and the turnaround, which is a way of experiencing the opposite of what you believe.
Katie has been bringing The Work to millions of people for more than thirty years. Her books, public events, weekend workshops, intensives, and nine-day School for The Work have brought freedom to people all over the world.
Watch the full video version of this conversation below.
In this episode, we discuss:
Katie suffering from depression for 10 years after her divorce
How the "Judge Your Neighbour" worksheet can help you
Katie's awakening back in 1986
Seeing how the world was created
The reality of awareness
How the people in Katie's life responded to her epiphany
Using self-inquiry as a way to identify and question thoughts
How Katie pulled her life back together after her depression
Doing "The Work"
Meeting her husband, Stephen Mitchell
A cockroach was a symbol of awareness
What is earth school?
An example of the four questions and turnarounds
Being wide open to suffering
Waiting for proof of past/future
Illusion is another word for memory
God is everyone and everything without exception
Love isn't something you can teach, it's in us all
War is an egoic state of mind
Meditation is a beautiful way to rest
Everyone is present
AT HOME with Byron Katie
It's never too late
Show sponsors:
Organifi <== 20% off all Organifi products
Paleovalley <== 15% off all Paleovalley products by using the code ultimatehealth at checkout
Four Sigmatic <== Save up to 40% off Four Sigmatic Mushroom Coffee bundles
Related links:
Byron Katie – Loving What Is (book)
Byron Katie's website
Follow Byron Katie on Facebook, Instagram, and Twitter
Byron Katie (books)
Judge Your Neighbour (worksheet)
AT HOME with Byron Katie (podcast)
Stephen Mitchell (books)
Related episodes:
Annaka Harris on What Is Consciousness? Where Is It Located? Mysteries Unravelled (#412)
Dr. Caroline Leaf on Eliminating Anxiety, Depression, and Intrusive Thoughts by Managing Your Mind (#402)
381: Dr. Dan Siegel – The Mind Is Broader Than The Brain
296: Dr. Joe Dispenza – Becoming Supernatural, Reprogram Your Mind, Trust Your Intuition
282: don Miguel Ruiz – The Three Questions • Stop Believing Your Thoughts • Normal vs. Irrational Fear
How can you support our podcast?
1. Apple users, please subscribe and review our show on Apple Podcasts, we make sure to read them all. Android users, be sure to subscribe to our show on Google Podcasts. Subscribers never miss any of the action 😉
2. If you'd prefer to watch vs listen to the interviews, head over to our YouTube channel and enjoy the full video conversations. Be sure and subscribe while you're there.
3. Tell a friend about The Ultimate Health Podcast. They will surely thank you later. You can use the envelope button below to email a friend or tell them about TUHP in person.
4. Join TUHP Facebook community (FREE). This is where we all stay in touch and ask questions in between episodes. Join our community.
5. Follow our adventures on our favourite social media platform, Instagram.
6. Download The Ultimate Health Podcast app (FREE). This way you'll have our whole library of episodes right at your fingertips. Download our iOS/Apple app or our Android app.
7. Share using the buttons below.
Thank you!