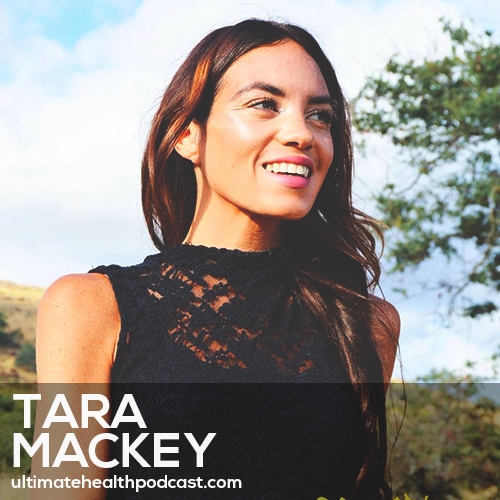 Tara Mackey (IG: @taraamackey) is a widely recognized social media personality. Her followers love her natural health suggestions and remedies – all of which actually come from Tara's personal journey of overcoming her dependence on 14 prescription drugs through an organic lifestyle, which ultimately saved her life.
Tara's new book, WILD Habits* shares all of the specific mental practices and natural home remedies Tara uses in her own life for a healthy spirit, mind, and body. She's also written Cured by Nature*.
In this episode, we discuss:
Tara was born on hard drugs
Her grandparents got custody of Tara when she was 7
Tara's first diagnosis and medication
The influence Oprah and Tony Robbins had on Tara
Being on 14 prescription drugs by the age of 24
Hitting rock bottom
The most empowering moment of Tara's life
Tara's most toxic relationship
Harmful habits
Every single moment of our life adds up
WILD Habits
Small things happening day after day can lead to something BIG
The WILD Method
Intuition is trusting yourself
Who you surround yourself with is who you become
Change your life by making meditation a daily habit
Natural ways to calm your anxiety
We learn a lot more from our failures compared to our successes
A different way of approaching gratitude
A supplement that eliminated Tara's acne
The impact of a shower filter on Tara's skin and hair
Don't start the day in chaos
Drinking ice water in the morning
Just go for a walk
Show sponsors:
Raw Elements <== 10% off all Raw Elements products – Apply the code TUHP at checkout (free shipping over $100)
Thrive Market <== As a new customer you get a free 30-day membership, 25% off your order, and free shipping (US only)*
Perfect Keto <== 20% off all Perfect Keto products and they ship worldwide (free shipping in the US)*
Sunwarrior <== 10% off all Sunwarrior products & free shipping over $100
Related links:
Tara Mackey – WILD Habits (book)*
Tara Mackey – Cured by Nature (book)*
Tara Mackey – The Organic Life Blog
Follow Tara on Instagram, Facebook, & Twitter
Enlightened Golden Chai – Easy Caffeine Free, Vegan Recipe (Tara's blog)
Tony Robbins – Awaken the Giant Within (book)*
Paulo Coelho – The Alchemist (book)*
Paramahansa Yogananda – Autobiography of a Yogi (book)*
Listen to Lori Harder previously on TUHP (episode #235 & #108)
Diindolylmethane (DIM): Is This Right for You? (The Oz Blog)
Berkey shower filter*
Download our BRAND NEW TUHP iOS app (FREE)!
Note: Links marked with an asterisk (*) are affiliate links. Making a purchase through these links won't cost you anything but we will receive a small commission. This is an easy, free way of supporting the podcast. Thank you!
How can you support our podcast?
1. Apple users, please subscribe and review our show on Apple Podcasts, we make sure to read them all. Android users, be sure to follow our show on Spotify. Subscribers never miss any of the action 😉
2. Tell a friend about The Ultimate Health Podcast. They will surely thank you later. You can use the envelope button below to email a friend or tell them about TUHP in person.
3. Join TUHP Facebook group (FREE). This is where we all stay in touch and ask questions in between episodes. Join our community.
4. Our favourite social media platform is Instagram. Follow our adventures.
5. Share using the buttons below.
Thank you!