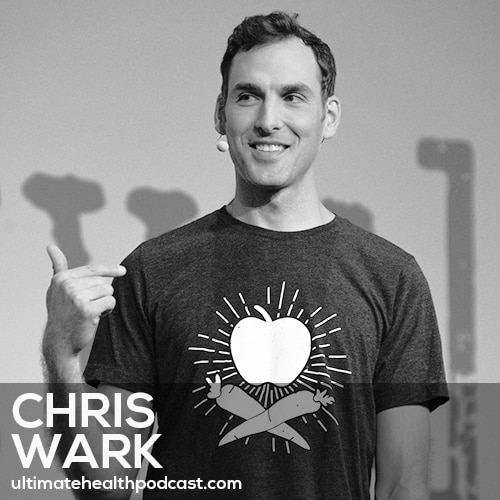 Chris Wark (IG: @chrisbeatcancer) is an author, blogger, podcaster, speaker and global health coach.
He was diagnosed with stage 3 colon cancer in 2003, at 26 years old. After surgery, Chris opted out of chemotherapy and used nutrition and natural therapies to heal. He began sharing his story in 2010 with a mission to inspire people to take control of their health and show them how to reverse disease with simple but radical diet and lifestyle practices.
Chris Beat Cancer: A Comprehensive Plan for Healing Naturally is his national bestselling book.
In this episode, we discuss:
Chris getting diagnosed with colon cancer at age 26
Getting rushed into surgery
Important questions to ask your oncologist
Being fed carcinogenic food right after surgery in the hospital
Chris follows his intuition & instinct and declined chemotherapy
The inspiration behind his book, Chris Beat Cancer
Conventional therapy for cancer
Why the strength of your immune system is important
Converting to a raw food diet
Getting help from an integrative oncologist & naturopathic nutritionist
Starting his blog Chris Beat Cancer in 2010
Focusing on what's important in life
Gratitude is the secret to happiness
All toxic emotions suppress immunity
The stress-cancer connection
Why Chris recommends eating plant-based
Exercise switches on anti-cancer protective genes
Create an environment where cancer can't thrive
What Chris's diet looks like today
Raising healthy daughters
Educate yourself before you rush into anything
The advice Chris would go back and give himself
The beat cancer mindset
Get serious about prevention
Show sponsors:
Sunwarrior <== 20% off all Sunwarrior products & free shipping over $50 (US only)
Perfect Keto <== 20% off all Perfect Keto products and they ship worldwide (free shipping in the US)
Organifi <== 20% off all Organifi products
Thrive Market <== As a new Thrive customer you get 25% off your order and a free 30-day membership
Related links:
Chris Wark – Chris Beat Cancer (book)
Chris Beat Cancer website
Follow Chris on Facebook, Instagram, and Twitter
George Malkmus & Michael Dye – God's Way To Ultimate Health (book)
The Plantrician Project
Camp Plant-Stock 2019
Related episodes:
121: Dr. Neal Barnard – Power Foods For The Brain (minicast)
096: Dr. Joel Kahn – The Gut-Heart Connection • Paleo vs. Low-Fat Vegan Diet • Top Heart Health Foods
090: Jason Wrobel – Eating For Better Sex • Glowing Skin From The Inside Out • Creating A Sleep Sanctuary
068: Dr. Caldwell Esselstyn Jr. – Prevent And Reverse Heart Disease (minicast)
040: Ruth Tal – Eat, Juice, Sweat, Thrive | Fresh Restaurants | Fuelled By Passion + Plants
Note: Some of the links above are affiliate links. Making a purchase through these links won't cost you anything but we will receive a small commission. This is an easy, free way of supporting the podcast. Thank you!
How can you support our podcast?
1. Apple users, please subscribe and review our show on Apple Podcasts, we make sure to read them all. Android users, be sure to subscribe to our show on Google Podcasts. Subscribers never miss any of the action 😉
2. Tell a friend about The Ultimate Health Podcast. They will surely thank you later. You can use the envelope button below to email a friend or tell them about TUHP in person.
3. Join TUHP Facebook community (FREE). This is where we all stay in touch and ask questions in between episodes. Join our community.
4. Follow our adventures on our favourite social media platform, Instagram.
5. Download The Ultimate Health Podcast app (FREE). This way you'll have our whole library of episodes right at your fingertips. Download our iOS/Apple app or our Android app.
6. Share using the buttons below.
Thank you!