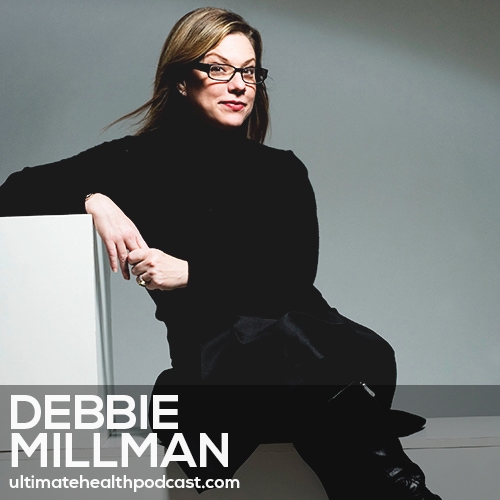 Debbie Millman is an author, educator, curator, and host of the podcast Design Matters. She was named "one of the most creative people in business" by Fast Company, and "one of the most influential designers working today" by Graphic Design USA.
Design Matters is 13 years old and is one of the world's first and longest running podcasts. Debbie has interviewed over 400 artists, designers, and cultural commentators.
In this episode, we discuss:
How Debbie became interested in design & branding
The evolution of Design Matters over 13 years
The trajectory of a person's life
The creative process behind interviewing
Debbie's failures made her resistant to shame
Be open to learning and growing
Rejection and failure are two different things
The mentor who changed Debbie's life
Pay it forward
Looking for fulfillment
How Debbie designs her days
What gave Debbie a sense of deep joy
Therapy helped save Debbie's life
The impact of negativity and criticism
Is your fear bigger than your desire?
Courage is the first step to confidence
Living in a 140 character culture
Everything worthwhile takes a long time
Reality check for building a career
Keep going until you make it
Debbie's morning and nightly routines
Her struggle with self-esteem
The perfect day exercise from Milton Glaser
Manifesting your goals
Show sponsors:
Perfect Keto <== 20% off all Perfect Keto products and they ship worldwide (free shipping in the US)*
Sunwarrior <== 10% off all Sunwarrior products & free shipping over $100
Related links:
Debbie Millman's website
Follow Debbie Millman on Facebook, Instagram, and Twitter
Design Matters (Debbie's podcast)
Debbie Millman – Brand Thinking and Other Noble Pursuits (book)*
Debbie Millman – Brand Bible (book)*
Debbie Millman – Self Portrait as Your Traitor (book)*
Debbie Millman – How to Think Like a Great Graphic Designer (book)*
Debbie Millman – Why You (book)*
Debbie Millman – The Essential Principles of Graphic Design (book)*
Steven Heller (books)*
Debbie Millman on The Tim Ferriss Show
Dani Shapiro – Inheritance (book)*
Smarty Pants Vitamins*
The Rachel Maddow Show on MSNBC
Your Ten-Year Plan
Healing and Dealing with Hashimoto's (Marni & Sam's online program)
Related episodes:
062: UJ Ramdas – The Five-Minute Journal | Pushing Through Your Comfort Zone | Develop An Attitude Of Gratitude
186: Nick Ortner – Your Greatest Self Doesn't Equal Perfection • What Does Tapping Look Like? • Common Energy Leaks
238: Tara Mackey – WILD Habits • Natural Ways To Calm Your Anxiety • Approaching Gratitude Differently
252: Srinivas Rao – Creating For An Audience Of One • Creativity Leads To Happiness • Cognitive Bandwidth
Note: Links marked with an asterisk (*) are affiliate links. Making a purchase through these links won't cost you anything but we will receive a small commission. This is an easy, free way of supporting the podcast. Thank you!
How can you support our podcast?
1. Apple users, please subscribe and review our show on Apple Podcasts, we make sure to read them all. Android users, be sure to follow our show on Spotify. Subscribers never miss any of the action 😉
2. Tell a friend about The Ultimate Health Podcast. They will surely thank you later. You can use the envelope button below to email a friend or tell them about TUHP in person.
3. Join TUHP Facebook group (FREE). This is where we all stay in touch and ask questions in between episodes. Join our community.
4. Our favourite social media platform is Instagram. Follow our adventures.
5. Share using the buttons below.
Thank you!