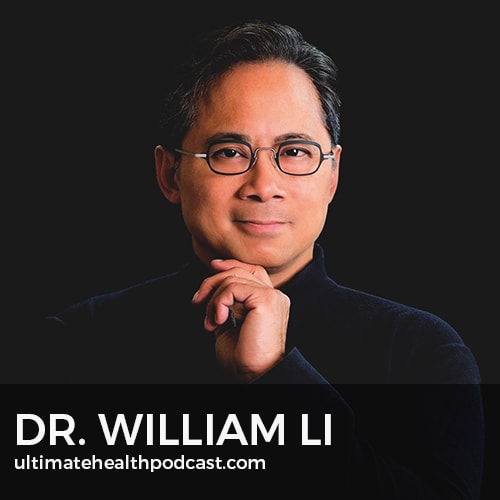 Dr. William Li (IG: @drwilliamli) is a world-renowned physician, scientist, speaker, and author of Eat to Beat Disease – The New Science of How Your Body Can Heal Itself. He is best known for leading the Angiogenesis Foundation.
Dr. Li's TED Talk, "Can We Eat to Starve Cancer?" has been viewed more than 11 million times. He's an author of over 100 scientific publications in leading journals such as Science, the New England Journal of Medicine, and The Lancet.
(Subscribe in Apple Podcasts)
(Subscribe in Google Podcasts)
In this episode, we discuss:
The inspiration behind Dr. Li's book "Eat to Beat Disease"
Studying the Mediterranean Diet
The 5 health defence systems
The role of angiogenesis in cancer
What is cancer?
Helping prevent cancer by eating anti-angiogenic foods
Drinking green tea to help prevent tumors
Sources of omega-3 fatty acids
Angiogenesis stimulating foods
The process of regeneration
Foods that stimulate stem cells
Foods & lifestyle choices that injure stem cells
Green tea vs. matcha green tea
Foods that kill cancer stem cells
Dr. Li's thoughts on stem cell injections
Holobiont defined
Balancing the microbiome
Short chain fatty acids
Oolong, black, and green teas improve gut bacteria
Artificial sweeteners harm your microbiome
Fiber is essential for your gut health
Foods that protect telomeres
Calm your immune system with vitamin C rich foods
Immune boosting foods
Exceptional foods
How much should you eat?
Dr. Li's views on organic & non-GMO
Don't stress about food… enjoy what you eat
Show sponsors:
Sleep On Latex <== All mattresses ship same day and can be returned for free within 100 days
Sunwarrior <== 20% off all Sunwarrior products & free shipping over $50 (US only)
Organifi <== 20% off all Organifi products
Four Sigmatic <== 15% off all Four Sigmatic products (free shipping on orders $100 or more)
Related links:
Dr. William Li – Eat to Beat Disease (book)
Dr. William Li's website
Follow Dr. William Li on Facebook, Instagram, and Twitter
Download Dr. Li's Free Shopping Guide
23andMe
AncestoryDNA
Related episodes:
289: Dr. David Perlmutter – Brain Maker • Reconnecting With Nature • Exercise Impacts The Microbiome
287: Dr. Steven Gundry – The Longevity Paradox • Exercise Impacts Your Microbiome • Top Sources Of Polyphenols
284: Darya Rose – Foodist • Break Away From Dieting • Shop In Season
280: Dr. Josh Axe – Keto Diet • Treating Cancer With Food • Collagen Is Essential
276: Chris Wark – Chris Beat Cancer • Toxic Emotions Suppress Immunity • Gratitude Is The Secret To Happiness
Note: Some of the links above are affiliate links. Making a purchase through these links won't cost you anything but we will receive a small commission. This is an easy, free way of supporting the podcast. Thank you!
How can you support our podcast?
1. Apple users, please subscribe and review our show on Apple Podcasts, we make sure to read them all. Android users, be sure to subscribe to our show on Google Podcasts. Subscribers never miss any of the action 😉
2. Tell a friend about The Ultimate Health Podcast. They will surely thank you later. You can use the envelope button below to email a friend or tell them about TUHP in person.
3. Join TUHP Facebook community (FREE). This is where we all stay in touch and ask questions in between episodes. Join our community.
4. Follow our adventures on our favourite social media platform, Instagram.
5. Download The Ultimate Health Podcast app (FREE). This way you'll have our whole library of episodes right at your fingertips. Download our iOS/Apple app or our Android app.
6. Share using the buttons below.
Thank you!