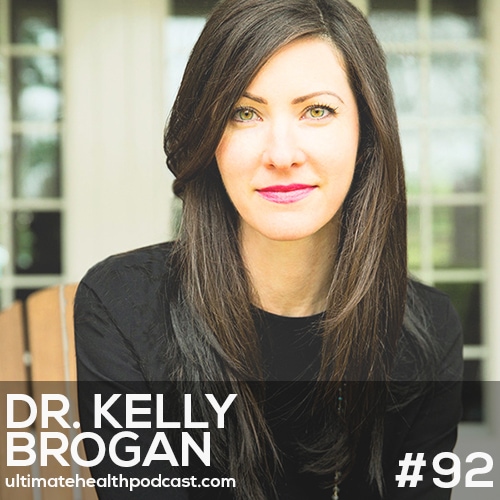 This week our featured guest is Dr. Kelly Brogan, a Manhattan-based holistic women's health psychiatrist and New York Times Bestselling author of A Mind of Your Own.
Kelly completed her psychiatric training and fellowship at NYU Medical Center after graduating from Cornell University Medical College, and has a B.S. from MIT in Systems Neuroscience. She is all about getting to root-cause of psychiatric syndromes and symptoms.
Kelly is the proud mother of two young girls.
In this episode, we discuss:
How the conventional medical community responded to her new book, A Mind of Your Own
Getting shunned by mainstream media
Depression is the number one cause of disability in the world
Long-term treatments with antidepressants result in worse outcomes than no treatment at all
Getting diagnosed with Hashimoto's disease and naturally putting it into remission
Hashimoto's symptoms are very similar to major depression
Wheat (gluten) and dairy (casein) may be having a negative effect on your mental health
Wheat in North America (frankenwheat) vs. European wheat
Sugar burns like paper vs. fat burns like a log
Psychiatric patients need to be concerned about thyroid function
Research is around 20 years ahead of what doctors are doing
Depression isn't caused by a chemical imbalance
Inflammation is at the root of depression
The evolutionary purpose of depression
SSRIs are being used for a myriad of very different conditions
Birth control, statin drugs, acid blocking medications, and tylenol commonly cause psychiatric side effects
The disabling withdrawal syndromes associated with SSRIs
Gut health impacts brain health
The diet Kelly recommends to her patients
You have the option of changing your story, daily
Links to things we mentioned:
Dr. Kelly Brogan – A Mind of Your Own (book)*
Dr. Kelly Brogan's website
Robert Whitaker – Anatomy of an Epidemic (book)*
SSRI Stories – Antidepressant Nightmares
Zootopia
Sanna's Farmacia
Previously on TUHP – Setting Healthy Intentions For 2016 (Better Late Than Never) (Episode #81)
HealthForce Vitamineral Green*
Sunwarrior <== 10% off all Sunwarrior products (free shipping over $100)*
Join TUHP Facebook group
Add us on Snapchat
Note: Links marked with an asterisk (*) are affiliate links. Making a purchase through these links won't cost you anything but we will receive a small commission. This is an easy, free way of supporting the podcast.
How can you support our podcast?
1. Subscribe and review our show on iTunes and Stitcher. We make sure to read them all.
2. Tell a friend about The Ultimate Health Podcast. They will surely thank you later.
3. Share using the buttons below.
Thank you!