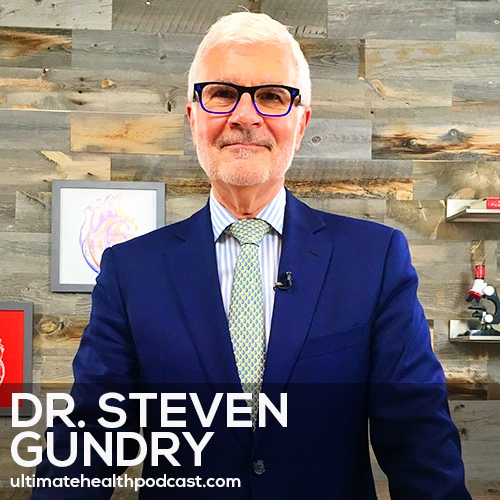 Dr. Steven Gundry has worked in medicine for over 40 years and is probably best known for my work as a cardiologist and heart surgeon. He now teaches people how to avoid surgery by using his unique vision of human nutrition.
Dr. Gundry is the director of the International Heart and Lung Institute and he's the founder and director of the Center for Restorative Medicine.
Dr. Gundry is the author of two books and over three hundred articles published in peer-reviewed journals. His latest book is titled The Plant Paradox and is the focus of today's show.
In this episode, we discuss:
Dr. Gundry was eating "healthy" and exercising daily but his health was falling apart
The war that goes on between plants and animals
What are lectins?
Lectins are one of fundamental causes of autoimmune disease
Reversing vitiligo by following The Plant Paradox program
Quinoa, squash, cucumbers, and pumpkin aren't healthy foods
The microbiome-immune system connection
Lectins are found primarily in the peels and seeds
Half the world's production of Tums (calcium carbonate) is mixed into cattle food so they keep eating
Pressure cookers destroy all lectins minus gluten
Stop eating brown rice
Should you keep some gluten in your diet?
Are grains & beans making you gain weight?
Lectins can appear in the flesh of animals
Animal protein ages us
Why wild seafood gets two thumbs up
Shrimp and crabs are not bottom feeders
Fruit might as well be candy
You weren't designed to eat grains, beans, nightshades, peanuts, cashews, and chia seeds
Show sponsors:
Sunwarrior <== 10% off all Sunwarrior products & free shipping over $100*
Raw Elements <== 10% off all Raw Elements products – Apply the code TUHP at checkout (free shipping over $100)*
Perfect Keto <== 20% off Perfect Keto products and they ship worldwide (free shipping in the US)*
Related links:
Dr. Steven Gundry – The Plant Paradox (book)*
Dr. Steven Gundry – Dr. Gundry's Diet Evolution (book)*
Dr. Steven Gundry's websites – gundrymd.com & drgundry.com
Dr. Gundry's YouTube Channel
Marni Wasserman – Plant-Based Diet For Dummies (book)*
Michael Pollan – The Botany of Desire (book)*
Loren Cordain
The Okinawa Diet (book)*
William Warner – Beautiful Swimmers (book)*
Note: Links marked with an asterisk (*) are affiliate links. Making a purchase through these links won't cost you anything but we will receive a small commission. This is an easy, free way of supporting the podcast. Thank you!
How can you support our podcast?
1. Apple users, please subscribe and review our show on iTunes, we make sure to read them all. Android users, be sure to subscribe to our show on Google Play Music. Subscribers never miss any of the action 😉
2. Tell a friend about The Ultimate Health Podcast. They will surely thank you later. You can use the envelope button below to email a friend or tell them about TUHP in person.
3. Join TUHP Facebook group (FREE). This is where we all stay in touch and ask questions in between episodes. Join our community.
4. Our favourite social media platform is Instagram. Follow our adventures.
5. Download our Habits app for iOS. You choose the healthy habits you want to implement and maintain and our app will help keep you on track. Download Habits app*.
6. Share using the buttons below.
Thank you!