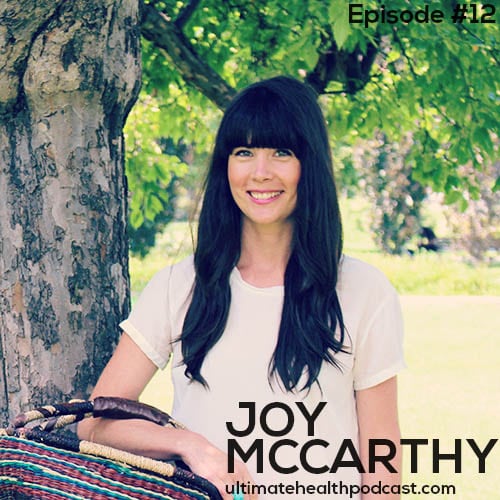 On today's episode, we are speaking with holistic nutritionist, Joy McCarthy. She is an expert in the health and nutrition world and is the author of Joyous Health: Eat & Live Well Without Dieting. Today, Joy shares her wealth of knowledge and passion for natural skin care. We get into specifics that will take your skin to the next level!
In this episode, we discuss:
Joy's health journey
What Joy eats & supplements with in a typical day
Specific cosmetic brands you can trust
Cosmetic ingredients you want to avoid
The natural eye makeup remover you already have in your kitchen
How to make your own natural cleanser, masks and moisturizer
Using apple cider vinegar for a hair cleanser and conditioner
What to eat and what to avoid for glowing skin
How removing common food sensitivities such as dairy can benefit your skin
Are there legit natural sunscreens?
How antioxidants in your diet can protect you from the sun
MSM for skin and joint health
How coconut oil can protect you from the sun
Natural ways of helping heal a sunburn
Dry skin brushing and other keys to reducing cellulite
Joy's healthy morning routine
Related Links:
Joy's website
Joy's products – Joyous Shop
Joyous Health: Eat & Live Well Without Dieting (book)*
Samantha Gladish (The Qualitarian)
David Suzuki – Dirty Dozen Cosmetic Chemicals
EWG's Skin Deep Cosmetics
Graydon Skincare*
Éminence Organic Skin Care*
Consonant All Natural Skin Care*
Green Beaver*
Redmond Clay Powder*
Schaf Skin Care*
Hugo Naturals*
Skin Essence Organics
Rahua Amazon Beauty*
Live Live Sun Lotion with MSM (Marni remembered the name)
Yogaglo
Julie Daniluk
Note: Links marked with an asterisk (*) are affiliate links. Making a purchase through these links won't cost you anything but we will receive a small commission. This is an easy, free way of supporting the podcast. Thank you!
How can you support our podcast?
1. Apple users, please subscribe and review our show on Apple Podcasts, we make sure to read them all. Android users, be sure to follow our show on Spotify. Subscribers never miss any of the action 😉
2. Tell a friend about The Ultimate Health Podcast. They will surely thank you later. You can use the envelope button below to email a friend or tell them about TUHP in person.
3. Join TUHP Facebook group (FREE). This is where we all stay in touch and ask questions in between episodes. Join our community.
4. Our favourite social media platform is Instagram. Follow our adventures.
5. Share using the buttons below.
Thank you!