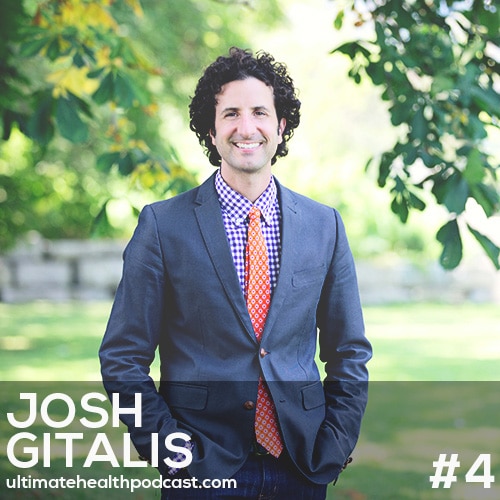 On today's show, we interview clinical nutritionist Josh Gitalis. He is an expert in the fields of supplementation, detoxification and herbal medicine. As someone who lives and breathes a natural lifestyle, he is fully able to stand behind his recommendations. This episode is packed with useful information that will equip you with actionable health strategies!
In this episode, we discuss:
Josh's health story
Supplementation strategies
The best type of calcium supplement
The team of nutrients involved in bone building
Is it possible to rebuild bone density or just maintain it?
How conventional cow dairy is causing you to lose calcium from your bones
Why detoxification is so important in the 21st century
How to detoxify your home
The different types of water filtration
The importance of sticking with quality, organic, grass fed meats (if you're an omnivore)
Superfoods and superherbs to cleanse and detoxify the body
Supplements that promote digestive health
Related Links:
Josh's Website
Follow Josh Gitalis on Facebook, Instagram, and YouTube
AOR – Ortho Bone (supplement)
AOR – Bone Basics (supplement)
Natural Calm – Magnesium (supplement)
Sidney Baker – Detoxification and Healing (book)
Think Dirty. app
Findaspring.com
High Intensity Health Radio with Mike Mutzel (podcast)
Elixir (Josh's superfood and herb blend)
Digestive Bitters (Josh's herbal tincture)
Related Shows:
058: Mike Mutzel – Next Level Gut Health | The Power Of Pea Protein | Is Gluten Always Bad?
080: Josh Gitalis – Getting To The Root Of Depression & Anxiety | Protect Your Adrenals With Adaptogenic Herbs | Synthetic vs. Whole Food Supplements
136: Julie Daniluk – Hot Detox • Spark Your Digestion With Herbs & Spices • We Haven't Evolved To Eat Cold Food
146: Meghan Telpner & Josh Gitalis – Create Your Ultimate Healthy Home
206: Josh Gitalis – Support During Pregnancy • Boost Your Immunity • Testing For Heavy Metals
Note: Some of the links above are affiliate links. Making a purchase through these links won't cost you anything but we will receive a small commission. This is an easy, free way of supporting the podcast. Thank you!
How can you support our podcast?
1. Apple users, please subscribe and review our show on Apple Podcasts, we make sure to read them all. Android users, be sure to subscribe to our show on Google Podcasts. Subscribers never miss any of the action 😉
2. Tell a friend about The Ultimate Health Podcast. They will surely thank you later. You can use the envelope button below to email a friend or tell them about TUHP in person.
3. Join TUHP Facebook community (FREE). This is where we all stay in touch and ask questions in between episodes. Join our community.
4. Follow our adventures on our favourite social media platform, Instagram.
5. Download The Ultimate Health Podcast app (FREE). This way you'll have our whole library of episodes right at your fingertips. Download our iOS/Apple app or our Android app.
6. Share using the buttons below.
Thank you!