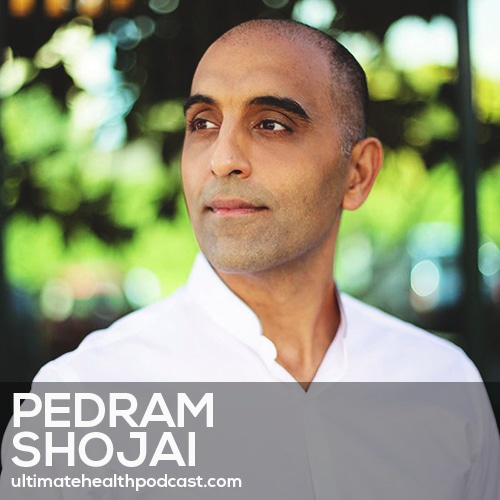 Pedram Shojai is former Taoist monk who is an accomplished physician of Chinese medicine and has lectured on wellness around the world. His no-nonsense approach teaches esoteric concepts to Western readers in an easy to understand way.
Today we discuss his new book, The Art of Stopping Time.
In this episode, we discuss:
Most people are in a state of overwhelm
Time is our most valuable gift
At the end of the day, the teacher can't give you anything
Assembling your life garden
Your worth in society isn't how busy you are
How saying yes can mean saying no to things we've already committed to
Imagine yourself on your deathbed
You'll be pushing up flowers
Start making appointments for yourself and your self-care
Using airplane mode to keep you from getting distracted
We don't know how to be anymore, we have to do and produce
What doing nothing really means
Enjoy every moment like it's your last time experiencing it… it is
If you have a to-do list that won't get done by the end of the day, you're sentencing yourself to a life of misery
The art of the to-do list
Needs vs. wants
The simple act of smiling
Sipping tea can be a meditative practice
You can't be "on" all the time
How to properly construct your bucket list
Show sponsors:
CoreChair <== 15% off your CoreChair purchase by using the code tuhpcc at checkout (free shipping in North America)
Perfect Keto <== 20% off Perfect Keto products and they ship worldwide (free shipping in the US)
Sunwarrior <== 20% off all Sunwarrior products & free shipping over $50 (US only)
Related links:
Pedram Shojai – The Art of Stopping Time (book)
Pedram Shojai – The Urban Monk (book)
Well.Org website (Pedram's the founder)
The Urban Monk (Pedram's website)
Follow Pedram on Facebook and Instagram
Listen to Ryan Nicodemus previously on TUHP (episode #132)
Minimilism: A Documentary About the Important Things
Marie Kondo – The Life-Changing Magic of Tidying Up (book)
Related episodes:
321: Neil Pasricha – You Are Awesome, Intentional Living, Becoming Anti-Fragile
306: Haemin Sunim – Let Go Of Perfectionism, Combat Depression, Take Things Slowly
298: Kate Northrup – Do Less, Surrender Your Control, Yoga Nidra
277: Marianne Williamson – A Course In Miracles • Self-Care vs. Selfishness • Transforming Politics
257: Jesse Itzler – Living With The Monks • Only Fruit Until Noon • Flip Your Relationship With Time
Note: Some of the links above are affiliate links. Making a purchase through these links won't cost you anything but we will receive a small commission. This is an easy, free way of supporting the podcast. Thank you!
How can you support our podcast?
1. Apple users, please subscribe and review our show on Apple Podcasts, we make sure to read them all. Android users, be sure to subscribe to our show on Google Podcasts. Subscribers never miss any of the action 😉
2. Tell a friend about The Ultimate Health Podcast. They will surely thank you later. You can use the envelope button below to email a friend or tell them about TUHP in person.
3. Join TUHP Facebook community (FREE). This is where we all stay in touch and ask questions in between episodes. Join our community.
4. Follow our adventures on our favourite social media platform, Instagram.
5. Download The Ultimate Health Podcast app (FREE). This way you'll have our whole library of episodes right at your fingertips. Download our iOS/Apple app or our Android app.
6. Share using the buttons below.
Thank you!