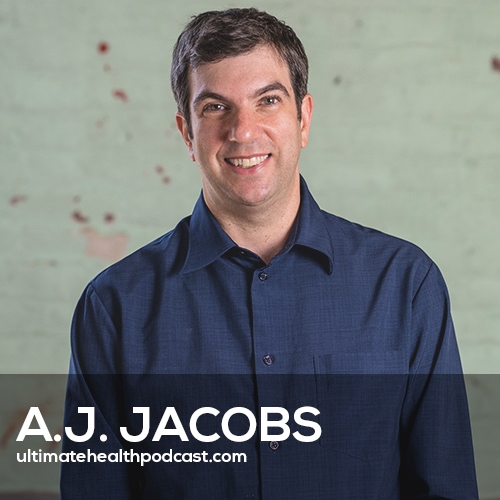 A.J. Jacobs (@ajjacobs) is an author, journalist, lecturer and human guinea pig. He has written four New York Times bestsellers that combine memoir, science, humor and a dash of self-help.
A.J. is also editor at large at Esquire magazine, a commentator on NPR and a columnist for Mental Floss magazine.
He has appeared on Oprah, The Today Show, Good Morning America, CNN, The Dr. Oz Show and The Colbert Report and has given several TED talks.
(Subscribe in Apple Podcasts)
(Subscribe in Google Podcasts)
In this episode, we discuss:
A gratitude journey thanking a thousand people
Gratitude leads to happiness
Thank you for thanking me
The six degrees of gratitude
It doesn't take a village to make a cup of coffee, it takes the world
What is the luck factor?
When you are grateful, you pay it forward
Savor the moment
The 30-Day Meditation Challenge
The alphabet gratitude practice
Before you use social media, take a moment to say "What am I grateful for?"
The year of living biblically
Focus on the good and make the world better
How much the outer affects the inner
When you act confident, you become confident
Not gossiping makes you happier
The month of being the greatest husband experiment
A.J. outsourcing an argument with his wife
The downsides of outsourcing
The radical honesty movement
It's not healthy to be obsessed with your health
The meaning of orthorexia
How to set micro goals
The importance of community
Puzzles can save the world
We should all be experimenting more
Show sponsors:
Organifi <== 20% off all Organifi products
Sunwarrior <== 20% off all Sunwarrior products (free shipping on orders over $50)
Beekeeper's Naturals <== 15% off all Beekeeper's Naturals products (free shipping on orders $60 or more)
Perfect Keto <== 20% off all Perfect Keto products (free shipping in the US)
Related links:
A.J. Jacobs – Thanks A Thousand (book)
A.J. Jacobs' website
Follow A.J. Jacobs on Facebook, Instagram, and Twitter
A.J. Jacobs – The Year of Living Biblically (book)
A.J. Jacobs – Drop Dead Healthy (book)
A.J. Jacobs (books)
Larry David
Mister Roger's
David Steindl-Rast – Gratefulness, The Heart of Prayer (book)
Scott Barry Kaufman
Listen to Dr. Pedram Shojai previously on TUHP (episode #182)
Barry (tv series)
Clearer Thinking with Spencer Greenberg
A.J. Jacobs – George H.W. and Barbara Bush (article)
A.J. Jacobs – My Outsourced Life (article)
Tim Ferriss – The 4-Hour Workweek (book)
A.J. Jacobs – I Think You're Fat (article)
Brad Blanton – Radical Honesty (book)
Sam Harris – Lying (book)
Liar Liar (movie)
The Invention of Lying (movie)
stickK
Join The Ultimate Health Podcast Facebook Community & participate in The 30-Day Meditation Challenge
Related episodes:
321: Neil Pasricha – You Are Awesome, Intentional Living, Becoming Anti-Fragile
375: James Sebastiano – Chasing The Present
347: Brad Montague – Becoming Better Grownups, Creating Your Space Jam, Be Less Childish & More Childlike
312: James Altucher – Reinvent Yourself, Defining Freedom, Comedians See The Truth
293: Mark Manson – We All Need Hope • Meditation Makes You Stronger • Happiness Is Overrated
A.J. Jacobs photo credit: Lem Lattimer
Note: Some of the links above are affiliate links. Making a purchase through these links won't cost you anything but we will receive a small commission. This is an easy, free way of supporting the podcast. Thank you!
How can you support our podcast?
1. Apple users, please subscribe and review our show on Apple Podcasts, we make sure to read them all. Android users, be sure to subscribe to our show on Google Podcasts. Subscribers never miss any of the action 😉
2. Tell a friend about The Ultimate Health Podcast. They will surely thank you later. You can use the envelope button below to email a friend or tell them about TUHP in person.
3. Join TUHP Facebook community (FREE). This is where we all stay in touch and ask questions in between episodes. Join our community.
4. Follow our adventures on our favourite social media platform, Instagram.
5. Download The Ultimate Health Podcast app (FREE). This way you'll have our whole library of episodes right at your fingertips. Download our iOS/Apple app or our Android app.
6. Share using the buttons below.
Thank you!