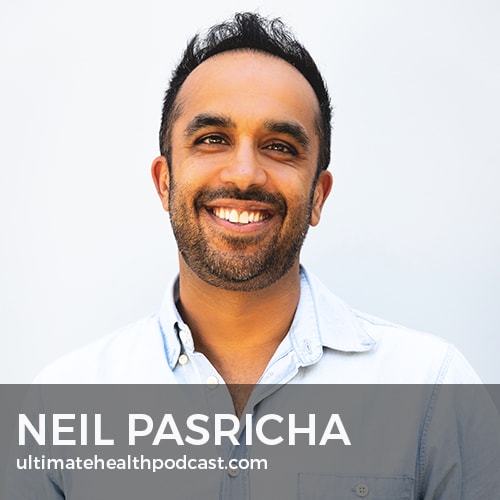 Neil Pasricha (IG: @neilpasricha) is a New York Times bestselling author that is all about living intentionally. His current work focuses under the themes of gratitude, happiness, failure, resilience, and trust.
Neil gives over 50 speeches a year at places like TED, SXSW, and Google. He also hosts an Apple "Best of 2018" podcast called 3 Books where he's on a 15-year-long mission to uncover and discuss the 1000 most formative books in the world.
Neil's book, You Are Awesome, is launching today.
(Subscribe in Apple Podcasts)
(Subscribe in Google Podcasts)
In this episode, we discuss:
Building resilience by tearing away the layers
Will it matter on my deathbed?
Reveal to heal
3 simple prompts to start your day
Don't Look Back In Anger Theory
Practicing gratitude in the mornings
How Neil's blog (1000 Awesome Things) became therapeutic
Gratitude builds a shield of resilience
Do you suffer from decision fatigue?
The idea of practicing untouchable days
Battling cellphone & social media addiction
Becoming anti-fragile
More failure = more success
Purposeful failure increases learning
What is benign envy?
Sharing your failures
The Spotlight Effect
How to develop confidence
Are you spending enough time alone?
The path of pain and punishment
168 hours a week
Neil's thoughts on parenthood
Intentional living inspired by Neil's wife, Leslie
Show sponsors:
Sleep On Latex <== All mattresses ship same day and can be returned for free within 100 days
Organifi <== 20% off all Organifi products
Perfect Keto <== 20% off all Perfect Keto products (free shipping in the US)
Sunwarrior <== 20% off all Sunwarrior products & free shipping over $50 (US only)
Related links:
Neil Pasricha – You Are Awesome (book)
Neil Pasricha's website
Follow Neil Pasricha on Facebook, Instagram, and Twitter
3 Books with Neil Pasricha (podcast)
1000 Awesome Things (blog)
Neil Pasricha – Two-Minute Mornings (journal)
Neil Pasricha – The Happiness Equation (book)
Neil Pasricha – The Book of Awesome
Neil Pasricha – The Book of (Even More) Awesome
Listen to Neil Pasricha previously on TUHP (episode #265)
PostSecret
Adam Atler – Irresistible (book)
Buffer: Social Media Management
Malcom Gladwell (books)
Warren Buffet (books)
Tim Urban – Wait But Why – Taming The Mammoth: Why You Should Stop Caring What Other People Think (article)
Mark Manson – The Subtle Art of Not Giving A F*ck (book)
Listen to Mark Manson previously on TUHP (episode #293)
Listen to Gretchen Rubin previously on TUHP (episode #037 and #207)
Related episodes:
318: Michael Hyatt – Achieve More By Doing Less, Work Productivity Hacks, The Power Of Constraints
312: James Altucher – Reinvent Yourself, Defining Freedom, Comedians See The Truth
286: Cal Newport – Digital Minimalism • Create Time For Solitude • Stop Socializing On Social Media
252: Srinivas Rao – Creating For An Audience Of One • Creativity Leads To Happiness • Cognitive Bandwidth
242: Sarah Knight – You Do You • Happiness In Imperfection • Managing Anxiety
Note: Some of the links above are affiliate links. Making a purchase through these links won't cost you anything but we will receive a small commission. This is an easy, free way of supporting the podcast. Thank you!
How can you support our podcast?
1. Apple users, please subscribe and review our show on Apple Podcasts, we make sure to read them all. Android users, be sure to subscribe to our show on Google Podcasts. Subscribers never miss any of the action 😉
2. Tell a friend about The Ultimate Health Podcast. They will surely thank you later. You can use the envelope button below to email a friend or tell them about TUHP in person.
3. Join TUHP Facebook community (FREE). This is where we all stay in touch and ask questions in between episodes. Join our community.
4. Follow our adventures on our favourite social media platform, Instagram.
5. Download The Ultimate Health Podcast app (FREE). This way you'll have our whole library of episodes right at your fingertips. Download our iOS/Apple app or our Android app.
6. Share using the buttons below.
Thank you!