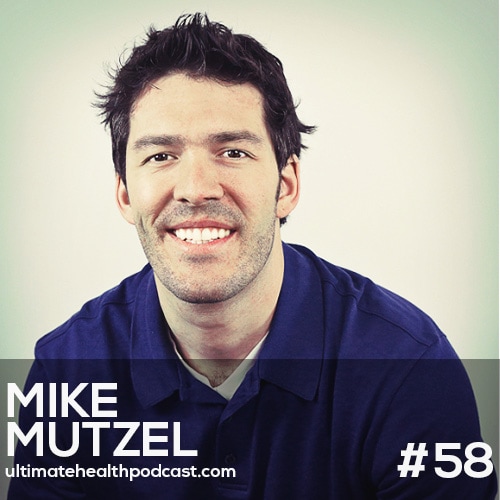 This week, we're speaking with functional nutrition expert, Mike Mutzel. His first book, The Belly Fat Effect, was published in the spring of 2014. Mike hosts a podcast of his own, High Intensity Health Podcast.
In this episode, we discuss:
Mike's journey into the world of health
The factors that influence your gut bacteria
The best diet is rich in fiber and phytonutrients
How gastric bypass surgery really works
Yoyo dieting causes a massive suppression of gut hormones
Chew, chew, chew… start eating, mindfully
Stop skipping breakfast
Going for a walk isn't meditating
Combine fats with colour rich phytonutrients to prevent inflammation
Mike's morning routine
Why you may want to consider switching to pea protein
Is a faecal microbiota transplant (FMT) right for you?
Are oral probiotics a good thing?
Tips for buying a quality probiotic
Probiotic supplements only work for 21 to 28 days
Should you take probiotics with or without food?
Don't neglect prebiotics
A healthy gut leads to a healthy immune system
Factors that contribute to leaky gut syndrome
Is gluten bad for everyone, always?
Gluten free foods are NOT the answer
Related links:
Sunwarrior <== 20% off all Sunwarrior products & free shipping over $50 (US only)
Mike Mutzel – Belly Fat Effect (book)
Mike Mutzel's website
Follow Mike Mutzel on Facebook, Instagram, and Twitter
Mike Mutzel – High Intensity Health Podcast
Toronto Vegetarian Food Festival
Four Sigmatic <== 15% off all Four Sigmatic products – Your discount will automatically be applied at checkout
Natural Products Expo East (Baltimore)
CHFA East (Toronto)
Vegfest Guelph!
Marni Wasserman – Plant-Based Diet For Dummies (book)
HeartMath
Listen to Hal Elrod previously on TUHP (episode #039)
Xymogen – VegaPro
Xymogen – OptiCleanse GHI
Saccharomyces boulardii
Sally Fallon – Nourishing Traditions (book)
Listen to Rich Roll previously on TUHP (episode #033)
Eckhart Tolle – The Power of Now (book)
American Journal of Clinical Nutrition – Probiotic study Mike talked about
Related episodes:
087: Dr. Robynne Chutkan – The Bloat Cure | Stress Changes Your Gut Bacteria | Cruciferous Vegetables Cause "Good Gas"
193: Focus Friday – Gut Friendly Foods
153: Dr. William Davis – Gluten Free Isn't Enough • Undoctored • The Importance Of A High Potency, Multi-Species Probiotic
089: Dr. Josh Axe – Eat Dirt • Leaky Gut Is The Root Cause Of All Disease • Soil-Based Organisms
273: Dr. David Perlmutter – Grain Brain • Cholesterol Is Your Friend • What Is Keto Cycling?
Note: Some of the links above are affiliate links. Making a purchase through these links won't cost you anything but we will receive a small commission. This is an easy, free way of supporting the podcast. Thank you!
How can you support our podcast?
1. Apple users, please subscribe and review our show on Apple Podcasts, we make sure to read them all. Android users, be sure to subscribe to our show on Google Podcasts. Subscribers never miss any of the action 😉
2. Tell a friend about The Ultimate Health Podcast. They will surely thank you later. You can use the envelope button below to email a friend or tell them about TUHP in person.
3. Join TUHP Facebook community (FREE). This is where we all stay in touch and ask questions in between episodes. Join our community.
4. Follow our adventures on our favourite social media platform, Instagram.
5. Download The Ultimate Health Podcast app (FREE). This way you'll have our whole library of episodes right at your fingertips. Download our iOS/Apple app or our Android app.
6. Share using the buttons below.
Thank you!