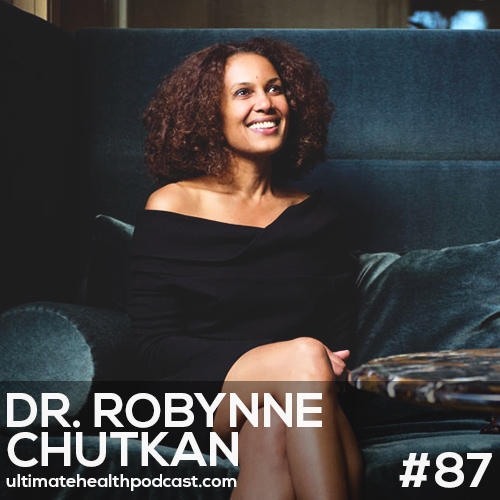 This week we have Dr. Robynne Chutkan back on the show for round 2. She is a gastroenterologist and wellness expert dedicated to helping people live not just longer, but better lives. Robynne is about to release her third book, The Bloat Cure (April 19th 2016).
In this episode, we discuss:
Bloating is related to the health of your micobiome
Red flags when it comes to bloating
Probiotics, it's essential to feed them properly
5 days on a broad spectrum antibiotic can wipe out a third of your gut bacteria
Very few people benefit from digestive enzymes
There are 3 main differences between the male and female colon
Antibiotics destroy the gut microbiome which leads to fungus and gas producing microbes
Your gut bacteria change in response to stress
How Robynne gets into her rest and relaxation state (parasympathetic)
A radical shift in Marni's diet, at least for now
Sugar sends your bad bacteria into a feeding frenzy
Artificial sweeteners put you at risk for diabetes and obesity
Cruciferous vegetables cause "good gas"
Your stomach has a bedtime and it changes with the seasons
NSAIDs are a major cause of leaky gut
Strategies to reducing bloating during menopause
How to figure out what is causing your bloating
Related links:
Dr. Robynne Chutkan – The Bloat Cure (book)
Dr. Robynne Chutkan's website
Follow Dr. Robynne Chutkan on Facebook, Instagram, and Twitter
Dr. Robynne Chutkan – GutBliss (book)
Dr. Robynne Chutkan – The Microbiome Solution (book)
Listen to Dr. Robynne Chutkan previously on TUHP (episode #073)
Patty Ivey – Down Dog Yoga
Erica Kerwien – The Healthy Coconut Flour Cookbook (book)
Rich Roll – Finding Ultra (book)
Rich Roll & Julie Piatt – The Plantpower Way (book)
Listen to Rich Roll previously on TUHP (episode #033)
Rich Roll Podcast #92 – Dr. Robynne Chutkan
Sunwarrior <== 20% off all Sunwarrior products & free shipping over $50 (US only)
Join TUHP Facebook group
Add us on Snapchat
Related episodes:
289: Dr. David Perlmutter – Brain Maker • Reconnecting With Nature • Exercise Impacts The Microbiome
287: Dr. Steven Gundry – The Longevity Paradox • Exercise Impacts Your Microbiome • Top Sources Of Polyphenols
193: Focus Friday – Gut Friendly Foods
168: Dr. Sachin Patel – Create Better Eating Habits • Heart Rate Variability • Pursue Happiness
127: Dr. Leo Galland – The Allergy Solution • The Stress-Allergy Connection • Peanut Allergies In Kids
Note: Some of the links above are affiliate links. Making a purchase through these links won't cost you anything but we will receive a small commission. This is an easy, free way of supporting the podcast. Thank you!
How can you support our podcast?
1. Apple users, please subscribe and review our show on Apple Podcasts, we make sure to read them all. Android users, be sure to subscribe to our show on Google Podcasts. Subscribers never miss any of the action 😉
2. Tell a friend about The Ultimate Health Podcast. They will surely thank you later. You can use the envelope button below to email a friend or tell them about TUHP in person.
3. Join TUHP Facebook community (FREE). This is where we all stay in touch and ask questions in between episodes. Join our community.
4. Follow our adventures on our favourite social media platform, Instagram.
5. Download The Ultimate Health Podcast app (FREE). This way you'll have our whole library of episodes right at your fingertips. Download our iOS/Apple app or our Android app.
6. Share using the buttons below.
Thank you!