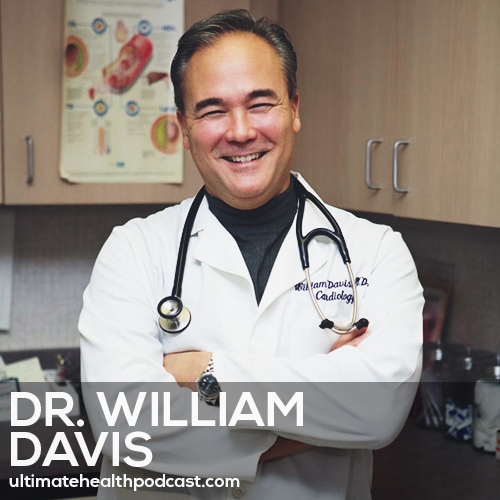 Dr. William Davis is author of the New York Times #1 bestseller, Wheat Belly, the book that turned the nutritional world by storm by challenging the conventional wisdom of "healthy whole grains."
He is also the author of the NY Times bestseller, Wheat Belly Cookbook, and he has a new book on shelves titled Undoctored.
Dr. Davis has discussed his views on major media including The Dr. Oz Show, Fox TV, and has been featured in the New York Times, the Los Angeles Times, Huffington Post, and others.
In this episode, we discuss:
How putting together his new book Undoctored was an emotional experience
Health can't come from the healthcare system
Grains cause numerous nutrient deficiencies (particularly minerals)
How a low fat, vegetarian diet degraded Dr. Davis' health
A diet rich in "healthy whole grains" is worse than a diet filled with sugar
The conventional medical system is broken
How the internet has impacted the doctor/patient interaction
Approach your doctor like you would a nasty, rebellious teenager
Wild, naked, and unwashed
Grain were only added into our diet 10 or 11 thousand years ago
Grains are very powerful GI toxins
The gluten free industry is deceptive and dishonest
Red fife is less bad but it's still bad
Can you have grains on a periodic basis?
Grains increase your risk for cardiovascular disease
A grain free diet doesn't mean deprivation
Are pseudograins ok?
Dr. Davis' thoughts on rice and corn
Arsenic in rice?!?
Lectins are GI toxins
Is soy a health food (tempeh and tofu)?
The demonization of saturated fat, cholesterol, and total fat was never based on science in the first place
The paleo diet vs. the Undoctored diet
We all need to be on a high potency, multi-species probiotic
Dr. Davis' top food sources of prebiotics
Dr. Davis' morning routine
Show sponsors:
Raw Elements <== 10% off all Raw Elements products – Apply the code TUHP at checkout (free shipping over $100)
Sunwarrior <== 20% off all Sunwarrior products & free shipping over $50 (US only)
Related links:
Dr. William Davis – Undoctored (book)
Undoctored website and Facebook Page
Dr. William Davis' website
Dr. Dean Ornish (books)
Garden of Life probiotics
Renew Life probiotics
Related episodes:
294: Dr. Sara Gottfried – Brain Body Diet, Start To Surrender, Reset With Intermittent Fasting
273: Dr. David Perlmutter – Grain Brain • Cholesterol Is Your Friend • What Is Keto Cycling?
215: Robyn Youkilis – Thin From Within • Hot Button Foods • Let Your Intuition Guide You
173: Focus Friday – Going Grain-Free
118: Yuri Elkaim – The All-Day Energy Diet • Sugar, Gluten, & Caffeine Are Draining You • Exercising For Energy
Note: Some of the links above are affiliate links. Making a purchase through these links won't cost you anything but we will receive a small commission. This is an easy, free way of supporting the podcast. Thank you!
How can you support our podcast?
1. Apple users, please subscribe and review our show on Apple Podcasts, we make sure to read them all. Android users, be sure to subscribe to our show on Google Podcasts. Subscribers never miss any of the action 😉
2. Tell a friend about The Ultimate Health Podcast. They will surely thank you later. You can use the envelope button below to email a friend or tell them about TUHP in person.
3. Join TUHP Facebook community (FREE). This is where we all stay in touch and ask questions in between episodes. Join our community.
4. Follow our adventures on our favourite social media platform, Instagram.
5. Download The Ultimate Health Podcast app (FREE). This way you'll have our whole library of episodes right at your fingertips. Download our iOS/Apple app or our Android app.
6. Share using the buttons below.
Thank you!