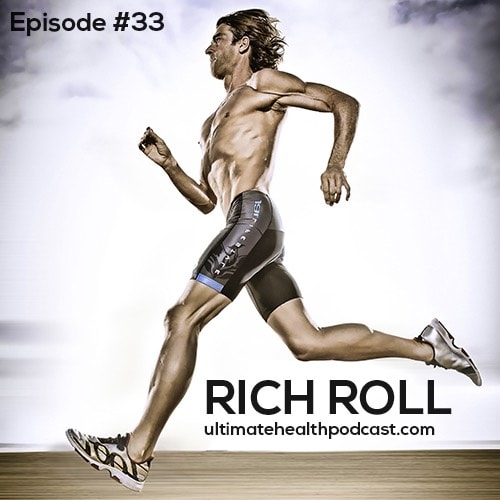 On today's show, we are speaking with health & wellness authority, Rich Roll. He is an accomplished author, endurance athlete, speaker, and he hosts a top-rated podcast – The Rich Roll Podcast.
We get into lots of off the beaten path topics with Rich that we haven't heard him discuss before. Enjoy the ride!
In this episode, we discuss:
Rich's journey to becoming a leader in the health world
The window diet
How adversity can lead to success
Rich's accomplishments in endurance sport
Rich's journey into plant-based eating
Is the vegan diet sustainable, longterm?
Focus on making the best choice in the moment
Plant-based foods that are excellent sources of protein
The food with the highest concentration of protein by weight, on the planet
Should we fear carbs + fats?
Vegan, paleo, raw food… how can the various camps come together and work toward a common goal?
A simple morning strategy that will have a profound impact on your health
Superfoods are not the panacea to health
It's not about hacking your way to success
Authenticity is everything
The details of how Rich begins a typical day
Any easy way to meditate, daily
HIIT vs. endurance training
Stop training in the gray zone
Should we focus on our strengths or improve upon our weaknesses?
A lack of talent can be overcome by hard work
The importance of a solid support system, ideally in person
Mood follows action
Related Links:
Rich Roll and Julie Piatt – The Plantpower Way (book)
Rich Roll's website
Follow Rich Roll on Facebook, Instagram, and Twitter
Finding Ultra (Rich's book)
The Rich Roll Podcast
Tolerant – The Gluten Free, Organic, Non-GMO Legume Pasta
Robb Wolf – The Paleo Solution (book)
10 Uncommon "Superfoods" from the World of Ultra-Endurance – Rich Roll (Tim Ferriss' Blog)
Living Tea – Puerh Tea
Ryan Holiday – The Obstacle Is The Way (book)
Julia Cameron – The Artist's Way (book)
Andy Puddicombe – Headspace Meditation App
Julie Piatt
WTF with Marc Maron Podcast
Russell Brand – The Trews (YouTube)
Cafe Gratitude
Related shows:
036: Whitney Lauritsen – Live (More) Eco Friendly, Eat Organic On A Budget, Avoid Vegan Junk Food
075: Abel James – Live More By Buying Less | Long-Term Weight Loss Strategies | HITT Wins Over Long Endurance Exercise
145: Robb Wolf – You Can't Cheat On Your Diet • Wired To Eat • Is The Paleo Diet Right For Everyone?
244: Dr. Will Cole – Plant-Based Keto Diet • Women & Ketosis • Fats For Brain Health
257: Jesse Itzler – Living With The Monks • Only Fruit Until Noon • Flip Your Relationship With Time
Note: Some of the links above are affiliate links. Making a purchase through these links won't cost you anything but we will receive a small commission. This is an easy, free way of supporting the podcast. Thank you!
How can you support our podcast?
1. Apple users, please subscribe and review our show on Apple Podcasts, we make sure to read them all. Android users, be sure to subscribe to our show on Google Podcasts. Subscribers never miss any of the action 😉
2. Tell a friend about The Ultimate Health Podcast. They will surely thank you later. You can use the envelope button below to email a friend or tell them about TUHP in person.
3. Join TUHP Facebook community (FREE). This is where we all stay in touch and ask questions in between episodes. Join our community.
4. Follow our adventures on our favourite social media platform, Instagram.
5. Download The Ultimate Health Podcast app (FREE). This way you'll have our whole library of episodes right at your fingertips. Download our iOS/Apple app or our Android app.
6. Share using the buttons below.
Thank you!