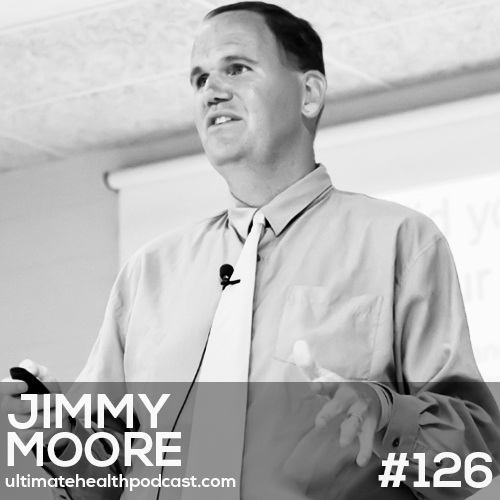 Jimmy Moore shed 180 pounds, shrunk his waist by 20 inches, and dropped his shirt size from 5XL to XL in a year by following the Atkins diet.
He is now following a ketogenic diet and is dedicated to helping as many people as possible find the information they need to make healthy lifestyle changes.
Jimmy spreads his message though a number of podcasts he hosts/cohosts, his blog, and his YouTube videos. He has a new book, The Complete Guide to Fasting.
In this episode, we discuss:
What is fasting?
The health benefits of fasting
Intermittent fasting is exploding in the health world
As humans, fasting is part of our history
Jimmy's first fasting experience
How to exercise during a fast
Two ways to heal insulin resistance
Myth – fasting makes you burn muscle
Fasting doesn't deprive your body of nutrients
Fasting won't result in overeating
Your first meal after a fast
How fasting impacts your metabolism during and after a fast
Who should not fast, who needs to fast, and who should do it with medical supervision?
How to make fasting a (relatively) pleasant experience
Jimmy's diet evolution
Losing 180 pounds on the Atkins diet
Look at health gain over weight loss
The ketogenic diet
Your body can convert protein to sugar
The health benefits of being in ketosis
Exogenous ketones and mct oil
Is ketosis right and safe for everyone?
Saturated fat is so incredibly healthy for you
What Jimmy currently eats in a day
The importance of managing your stress
What drives Jimmy Moore?
Related links:
Buy KETO//OS exogenous ketones (US/Canada)*
Sunwarrior <== 10% off all Sunwarrior products (free shipping over $100)*
Raw Elements <== 10% off all Raw Elements products – Apply the code TUHP at checkout (free shipping over $100)*
Jimmy Moore – The Complete Guide to Fasting (book)*
Jimmy Moore – The Ketogenic Cookbook (book)*
Jimmy Moore – Keto Clarity (book)*
Jimmy Moore – Cholesterol Clarity (book)*
Jimmy Moore's website – Livin' La Vida Low-Carb
The Livin' La Vida Low-Carb Show With Jimmy Moore (podcast)
Low-Carb Conversations By Jimmy Moore, Jenna The Paleo PA & Friends (podcast)
Keto Talk With Jimmy Moore & The Doc (podcast)
Ask The Low-Carb Experts By Jimmy Moore (podcast)
Bulletproof Brain Octane Oil
People mentioned:
Dr. Jason Fung
Dr. Robert Atkins
Dr. Dom D'Agostino
Listen to Dave Asprey previously on TUHP (episode #61)
Note: Links marked with an asterisk (*) are affiliate links. Making a purchase through these links won't cost you anything but we will receive a small commission. This is an easy, free way of supporting the podcast.
How can you support our podcast?
1. Apple users, please subscribe and review our show on iTunes, we make sure to read them all. Android users, be sure to subscribe to our show on Google Play Music. Subscribers never miss any of the action 😉
2. Tell a friend about The Ultimate Health Podcast. They will surely thank you later. You can use the envelope button below to email a friend or tell them about TUHP in person.
3. Join TUHP Facebook group (FREE). This is where we all stay in touch and ask questions in between episodes. Join our community here.
4. Download our Habits app for iOS. You choose the healthy habits you want to implement and maintain and our app will help keep you on track. Download Habits app here.
5. Share using the buttons below.
Thank you!