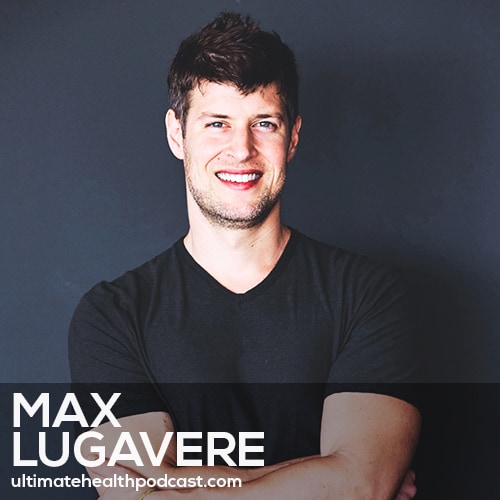 Max Lugavere (@maxlugavere) is a filmmaker, TV personality, health and science journalist, and brain food expert. He is also the director of the upcoming film Bread Head, the first-ever documentary about dementia prevention through diet and lifestyle. Max is the author of the soon-to-be released, Genius Foods: Become Smarter, Happier, and More Productive While Protecting Your Brain For Life*.
In this episode, we discuss:
Max's Mom getting diagnosed with a neurodegenerative condition
Alzheimer's disease is the most common form of dementia
Physicians know very little when it comes to nutrition
Alzheimer's begins in the brain decades before the first symptom
The diet Max recommends for ultimate cognition – The Genius Plan
Alzheimer's and the ketogenic diet
The connection between type 2 diabetes and Alzheimer's
High fat is in
The only oil Max recommends consuming liberally
Supplementing with fish oil
Huge fatty salads
Carotenoids have been show to boost brain processing speed
Smoke point vs. the point at which an oil oxidizes and goes rancid
Stop consuming and cooking with grape seed oil
People with Alzheimer's can crave sugary foods
Finding balance with ketosis
Creatine is a necessary compound in the brain – it recycles ATP
Polyphenols – the most valuable compounds in chocolate
When we're stagnant our brains suffer
Building muscles essentially builds glucose banks
Do you feel hungover after skimping on sleep?
Can Alzheimer's disease be reversed?
The importance of bright light exposure
Show sponsors:
Perfect Keto <== 20% off all Perfect Keto products and they ship worldwide (free shipping in the US)*
Thrive Market <== As a new customer you get a free 30-day membership, 25% off your order, and free shipping (US only)*
Sunwarrior <== 10% off all Sunwarrior products & free shipping over $100
CoreChair <== Apply the code tuhpcc at checkout for your listener discount (free shipping in North America)
Related links:
Max Lugavere – Genius Foods (book)*
Max Lugavere's website
Follow Max on Instagram
The 6 Things to Know When Buying Chocolate (Max's blog)
Ray Kurzweil*
Note: Links marked with an asterisk (*) are affiliate links. Making a purchase through these links won't cost you anything but we will receive a small commission. This is an easy, free way of supporting the podcast. Thank you!
How can you support our podcast?
1. Apple users, please subscribe and review our show on Apple Podcasts, we make sure to read them all. Android users, be sure to follow our show on Spotify. Subscribers never miss any of the action 😉
2. Tell a friend about The Ultimate Health Podcast. They will surely thank you later. You can use the envelope button below to email a friend or tell them about TUHP in person.
3. Join TUHP Facebook group (FREE). This is where we all stay in touch and ask questions in between episodes. Join our community.
4. Our favourite social media platform is Instagram. Follow our adventures.
5. Download our Habits app for iOS. You choose the healthy habits you want to implement and maintain and our app will help keep you on track. Download Habits app*.
6. Share using the buttons below.
Thank you!