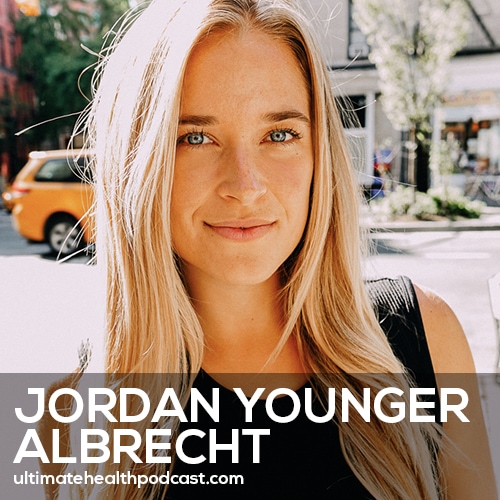 Jordan Younger Albrecht (IG: @thebalancedblonde) is the blogger behind the top-read spirituality & wellness blog, The Balanced Blonde. She covers all things wellness, high vibrational living, the plant based lifestyle, healing from chronic illness, tapping into your creativity and psychic nature, and so much more.
Beyond the blog, she is the creator and host of top podcast SOUL ON FIRE, where she goes deep on a range of topics from nutrition, to aliens, to entrepreneurship, to mediumship.
(Subscribe in Apple Podcasts)
(Subscribe in Google Podcasts)
In this episode, we discuss:
Jordan was diagnosed with chronic Lyme disease
Jordan's soul searching trip to Bali where she hit rock bottom
Living in a moldy environment flared up her Lyme disease symptoms
IGeneX: Lyme disease testing
Jordan's thoughts on the western blot test
The overwhelming truth about Lyme disease and co-infections
Ozone therapy for treatment of Lyme disease
The facts about treating Lyme disease with antibiotics
The benefits of stem cell therapy
The plant based way of life for healing
How sharing your story helps you and your community
Lyme disease is present all over the world
Mosquitos, fleas, horseflies & ticks can all carry Lyme disease
Ayahuasca takes you on a spiritual journey
Micro-dosing psilocybin for chronic pain
Psychedelics have helped Jordan the most on her healing journey
Yoga is a wonderful escape for the mind
Find a Lyme literate doctor
What is the Whole Food, Plant Based, SOS-Free Diet?
How water fasting cleanses the body
Taking time off to heal
Bringing awareness to Lyme disease
The healing benefits of celery juice
Show sponsors:
Beekeeper's Naturals <== 15% off all Beekeeper's Naturals products (free shipping on orders $60 or more)
Organifi <== 20% off all Organifi products
BLUblox <== 15% off the world's most advanced blue light glasses
Perfect Keto <== 20% off all Perfect Keto products (free shipping in the US)
Related links:
Jordan Younger Albrecht's website (The Balanced Blonde)
Follow Jordan Younger Albrecht (The Balanced Blonde) on Facebook, Instagram, and Twitter
The Balanced Blonde // Soul On Fire (Jordan's podcast)
Jordan Younger – Breaking Vegan (book)
Listen to Jordan Younger previously on TUHP (episode #162)
Yolanda Hadid – Believe Me (book)
Global Lyme Alliance
eCornell – Plant Based Nutrition Certification
TrueNorth Health Center
Anthony William – Medical Medium Celery Juice (book)
Anthony William – Medical Medium Cleanse To Heal (book)
Anthony William – Medical Medium Thyroid Healing (book)
Anthony William – Medical Medium Liver Rescue (book)
Related episodes:
361: Dr. Alejandro Junger – Living In A Higher State Of Consciousness
238: Tara Mackey – WILD Habits • Natural Ways To Calm Your Anxiety • Approaching Gratitude Differently
248: Evan Brand – Parasites, H. pylori, & Candida • Cavitation Surgery • Addressing Mental Health
061: Dave Asprey – Hacking Ketosis | Bulletproof Coffee For Kids? | Hidden Mold In Your Home
055: Tim Van Orden – Authentic Happiness | Battling Lyme Disease | Secrets To A Next Level Salad
Note: Some of the links above are affiliate links. Making a purchase through these links won't cost you anything but we will receive a small commission. This is an easy, free way of supporting the podcast. Thank you!
How can you support our podcast?
1. Apple users, please subscribe and review our show on Apple Podcasts, we make sure to read them all. Android users, be sure to subscribe to our show on Google Podcasts. Subscribers never miss any of the action 😉
2. Tell a friend about The Ultimate Health Podcast. They will surely thank you later. You can use the envelope button below to email a friend or tell them about TUHP in person.
3. Join TUHP Facebook community (FREE). This is where we all stay in touch and ask questions in between episodes. Join our community.
4. Follow our adventures on our favourite social media platform, Instagram.
5. Download The Ultimate Health Podcast app (FREE). This way you'll have our whole library of episodes right at your fingertips. Download our iOS/Apple app or our Android app.
6. Share using the buttons below.
Thank you!