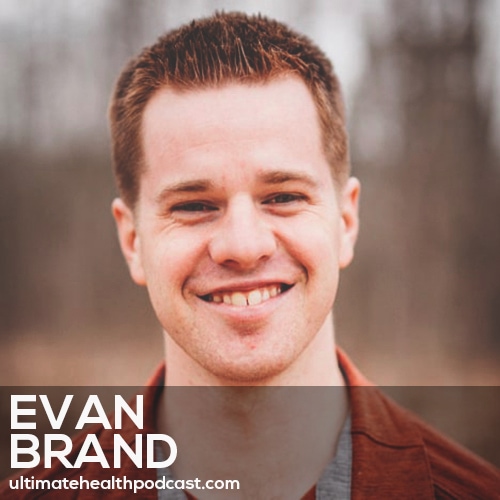 Evan Brand is an author, podcast host, and a board-certified holistic nutritionist, certified functional medicine practitioner, and nutritional therapist. He is passionate about healing the chronic fatigue, obesity, and depression epidemics after solving his own IBS and depression issues. Evan is the author of Stress Solutions*, REM Rehab, and The Everything Guide to Nootropics*.
In this episode, we discuss:
Evan recently experienced heart palpitations
Cavitation surgery
Why optimal gut health is important
GI-MAP testing
H. pylori infections
You can contract parasites anywhere
All diseases in the future will be known as autoimmune diseases
Completing the puzzle of health
Pets are risk factors for parasites and worms
Parasite symptoms
Mental health issues can start in the gut
Why cleaning up your food, products, & water is essential
Work with a practitioner to get proper testing done
Autoimmune diseases affect 1 in 5 people
How to avoid toxins
Working with a biological or holistic dentist
Addressing the gut as a whole
Treating yeast, bacteria, parasites, & fungus
Tests everyone should get done
The negative impact of EMFs
Stop the negative self-talk
Love yourself
Benefits of EFT (emotional freedom technique)
The importance of talking about mental health issues
Storing emotions can affect the way you feel
Show sponsors:
Sproos <== 10% off all Sproos products & free shipping on orders over $40 (Canada only)*
Thrive Market <== As a new customer you get a free 30-day membership, 25% off your order, and free shipping (US only)*
Four Sigmatic <== 10% off all Four Sigmatic products & free shipping over $100
Related links:
Evan Brand's website
Follow Evan Brand on Instagram, Facebook, & Twitter
The Evan Brand Show (podcast)
Evan Brand – Stress Solutions (book)*
Evan Brand – The Everything Guide To Nootropics (book)*
Listen to Evan Brand previously on TUHP (episode #200)
Evan Brand Interview featuring Marni & Jesse (podcast)
Candida Summit (hosted by Evan Brand)
Dr. Stuart Nunnally – Marble Falls, Texas
DNA Connexions
Dysbiosis
GI-MAP Testing
H. pylori
Berkey water filter*
Giardia infection
Leaky Gut Syndrome
Whipworm infections
Berkey shower filter*
Dr. John Sarnos (books)*
International Academy of Oral Medicine & Toxicology
Dr. Stephen Wasserman – Biological Dentist, Toronto (Marni's Dad)
Orange Guard – All Natural Insect Killer
Organic Acids Test
GPL-TOX Test
ACE (Adverse Childhood Experience) Questionnaire
EFT (Emotional Freedom Technique)
Listen to Nick Ortner previously on TUHP (episode #186)
Note: Links marked with an asterisk (*) are affiliate links. Making a purchase through these links won't cost you anything but we will receive a small commission. This is an easy, free way of supporting the podcast. Thank you!
How can you support our podcast?
1. Apple users, please subscribe and review our show on Apple Podcasts, we make sure to read them all. Android users, be sure to follow our show on Spotify. Subscribers never miss any of the action 😉
2. Tell a friend about The Ultimate Health Podcast. They will surely thank you later. You can use the envelope button below to email a friend or tell them about TUHP in person.
3. Join TUHP Facebook group (FREE). This is where we all stay in touch and ask questions in between episodes. Join our community.
4. Our favourite social media platform is Instagram. Follow our adventures.
5. Share using the buttons below.
Thank you!