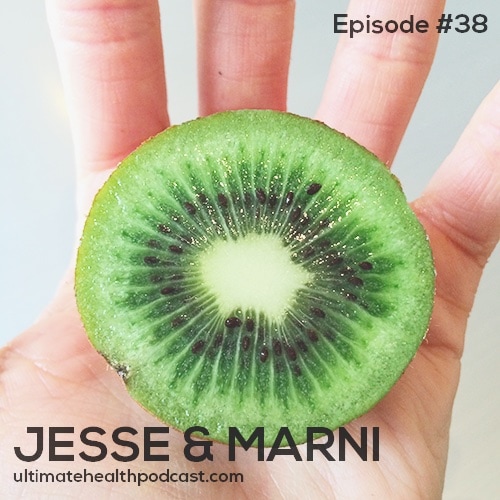 Today's episode is a little different from the norm, which is great!
This past weekend we attended the March Against Monsanto in Toronto. At the very least, we need GMOs labelled so we can make an informed choice about the food we eat. We share our thoughts on GMOs and why going organic is essential.
We also share a bunch of gems on green foods and how to get more of them into your daily routine.
Stick around until the end of the show and find out how you can get your questions answered on TUHP!
In this episode, we discuss:
Monsanto and genetically modified foods
The surefire way to tell if produce is organic or not
The 2 conventional crops that are almost always genetically modified
The current dirty dozen and clean fifteen
The reasons we choose organic foods
Eating local + seasonal is always best
Getting your greens on!
How to preserve kale and make it less bitter
The importance of rotating your greens
Greens powders are health insurance
Broccoli is a protein powerhouse
How to prepare cruciferous vegetables for optimal digestion
Using avocado as a plant-based mayonnaise
Sea vegetables are a source of iodine
Living sprouts vs. raw foods
How to easily start sprouting at home
Don't underestimate the mighty kiwi
Remove heavy metals from your body with parsley and cilantro
Get your zinc from pumpkin seeds
Related Links:
March Against Monsanto
Non-GMO Project
King Corn (documentary)
GMO OMG (documentary)
EWG's Dirty Dozen & Clean Fifteen
Raw Organic Ormus Supergreens – Sunwarrior
HealthForce Nutritionals Vitamineral Green (supplement)
Plant-Based Diet For Dummies (Marni's book)
SeaSnax
Urban Cultivator
Fuerte – Marni's favourite avocado
Magic Oven (Toronto restaurant)
Related Shows:
004: Josh Gitalis – A Clinical Nutritionist's Perspective On Maintaining Strong Bones, Detoxification And Gut Health
022: Julie Daniluk – Inflammation: The Good, The Bad, The Ugly | Balancing Healthy Fats | Weight Loss Through Hormone Health
069: Joel Salatin – Alternative Farming Using Modern Technology | Chickens Expressing Their Chickenness | Grain-Fed vs. Grass-Fed Beef
070: The Benefits of Eating Seasonally and Locally (Fall + Winter) | Immune Boosting Foods
268: Sarah Wilson – Zero Waste Cooking • Minimal Consumption • Start Thinking Differently
Note: Some of the links above are affiliate links. Making a purchase through these links won't cost you anything but we will receive a small commission. This is an easy, free way of supporting the podcast. Thank you!
How can you support our podcast?
1. Apple users, please subscribe and review our show on Apple Podcasts, we make sure to read them all. Android users, be sure to subscribe to our show on Google Podcasts. Subscribers never miss any of the action 😉
2. Tell a friend about The Ultimate Health Podcast. They will surely thank you later. You can use the envelope button below to email a friend or tell them about TUHP in person.
3. Join TUHP Facebook community (FREE). This is where we all stay in touch and ask questions in between episodes. Join our community.
4. Follow our adventures on our favourite social media platform, Instagram.
5. Download The Ultimate Health Podcast app (FREE). This way you'll have our whole library of episodes right at your fingertips. Download our iOS/Apple app or our Android app.
6. Share using the buttons below.
Thank you!