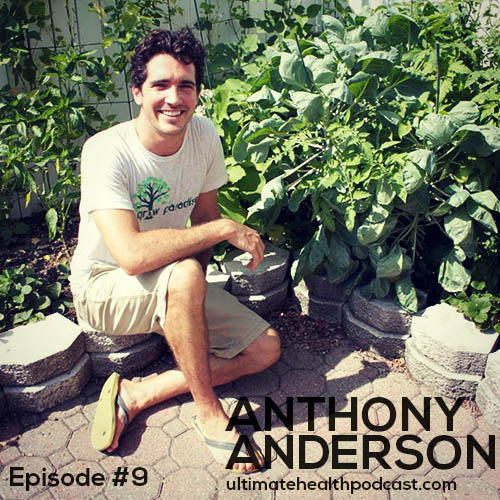 Today we are talking with Anthony Anderson of Grow Paradise, a project dedicated to creating paradise in our current surroundings. Paradise creation can be applied to every aspect of our lives. Anthony is passionate about growing his own food (permaculture), homesteading and healthy living. He hosts Eco-Adventure Retreats on the Big Island of Hawaii.
In this episode, we discuss:
Anthony's health journey
Dumpster diving and freeganism
The hybridization of modern fruit
Anthony's previous struggle with bulimia
The evolution of Anthony's diet over the years and what he is currently eating
The dangers of absolutes when it comes to diet
Outside of food, other things Anthony does to maintain his health
How simplicity can benefit your health
The benefits of growing your own food
How to grow next level plants
How to produce healthy soil for your plants
Healthy soil = healthy people
The importance of organic crops and avoiding GMOs
Homesteading and rocket mass heaters
Anthony's food forest in Minnesota
Anthony's upcoming Hawaiian Eco-Adventure Retreat
Related Links:
Grow Paradise's Hawaiian Eco-Adventure Retreat
Anthony's website
Follow Anthony Anderson on Facebook, Twitter, and YouTube
Climbing Coconuts In Hawaii (video)
Henry David Thoreau – Walden (book)
Crimethinc – Evasion (book)
Commodities Natural Market
rawmodel.com
Daniel Vitalis
Udder Milk
Kerrygold Butter
Nature's First Law: The Raw-Food Diet (book)
Icaro
The Man Who Planted Trees (video)
Falling Fruit
Azomite
Ocean Grown
Paul Stamets
Veganic gardening
Permies
Lawyer Nursery Inc
Related Shows:
038: Take A Stand Against GMOs (Eat Organic) | Make Green Foods A Priority
034: Frank Giglio – ReWild Your Life | Eat Local & Thrive | Deep Nutrition With Fermented Foods
040: Ruth Tal – Eat, Juice, Sweat, Thrive | Fresh Restaurants | Fuelled By Passion + Plants
089: Dr. Josh Axe – Eat Dirt • Leaky Gut Is The Root Cause Of All Disease • Soil-Based Organisms
227: Andy Couturier – The Abundance Of Less • Enjoying The Process • Thinking For Yourself
Note: Some of the links above are affiliate links. Making a purchase through these links won't cost you anything but we will receive a small commission. This is an easy, free way of supporting the podcast. Thank you!
How can you support our podcast?


1. Apple users, please subscribe and review our show on Apple Podcasts, we make sure to read them all. Android users, be sure to subscribe to our show on Google Podcasts. Subscribers never miss any of the action ;)


2. Tell a friend about The Ultimate Health Podcast. They will surely thank you later. You can use the envelope button below to email a friend or tell them about TUHP in person.


3. Join TUHP Facebook community (FREE). This is where we all stay in touch and ask questions in between episodes. Join our community.
4. Follow our adventures on our favourite social media platform, Instagram.


5. Download The Ultimate Health Podcast app (FREE). This way you'll have our whole library of episodes right at your fingertips. Download our iOS/Apple app or our Android app.
6. Share using the buttons below.
Thank you!