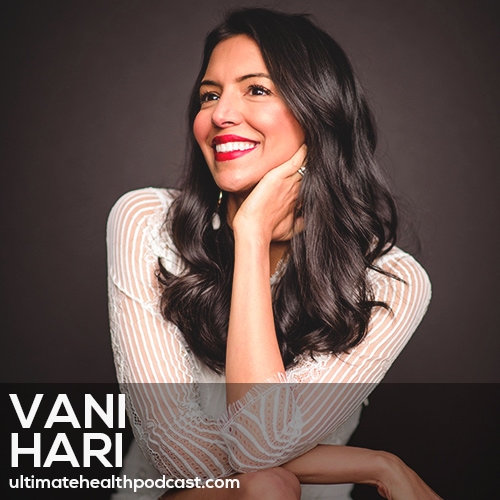 Vani Hari (IG: @thefoodbabe) is a food activist, New York Times bestselling author of The Food Babe Way, and co-founder of Truvani. She was named one of the most influential people on the internet by Time magazine.
Encouraged by her friends and family, Vani started a blog called foodbabe.com in 2011. It quickly became a massive vehicle for change. Her blog has led campaigns against food giants like Kraft, Starbucks, Chick-fil-A, Subway, and General Mills that attracted more than 500,000 signatures and led to the removal of several controversial ingredients used by these companies.
Today we're discussing Vani's new book, Feeding You Lies: How to Unravel the Food Industry's Playbook and Reclaim Your Health.
In this episode, we discuss:
How Vani's life has changed since becoming a mother
The backlash from the food industry after her first book
Fighting against food policies that are making us sick
Breaking free from the control of the food industry
Being named Time magazine's most influential person on the internet in 2015
Why Vani started a movement
Food scientists complicate food
How the food industry is manipulating us with the media
The top 10 big players of the food industry
Who is safety testing all the different chemicals in our food?
The link between artificial flavours & cancer
TBHQ preservative increases food allergies
Avoid processed food as much as possible
Unethical practices of the food industry
Look beyond the headlines at who funded the study
The truth about artificial sweeteners
The problem with sugar-free products
Lead by example
What are obesogens?
7 major crops containing GMOs
Glyphosate is carcinogenic
What the non-GMO label really means
The 3 different categories of organic
Organic approved pesticides
Always check the ingredients
Natural flavor is created in a laboratory
The inspiration behind Truvani
Show sponsors:
Four Sigmatic <== 15% off all Four Sigmatic products – Your discount will automatically be applied at checkout
Organifi <== 20% off all Organifi products
Thrive Market <== As a new customer you get a free 30-day membership, 25% off your order, and free shipping (US only)
Related links:
Vani Hari – Feeding You Lies (book)
Vani Hari's website (Food Babe)
Follow Vani Hari on Facebook, Instagram, and Twitter
Vani Hari – The Food Babe Way (book)
Truvani
Listen to Vani Hari previously on TUHP (episode #20)
Listen to Gabby Bernstein previously on TUHP (episode #208)
Listen to Dr. Mark Hyman previously on TUHP (episode #74, #84, and #214)
Listen to Mark Sisson previously on TUHP (episode #178)
Primal Kitchen (products)
Derek Halpern (Social Triggers)
Related episodes:
280: Dr. Josh Axe – Keto Diet • Treating Cancer With Food • Collagen Is Essential
112: JJ Virgin – Fat Doesn't Make You Fat, Sugar Makes You Fat
049: Dr. Yoni Freedhoff – Embracing Imperfection | Stop Blaming The Food Industry | Staying Ahead Of Food Cravings
038: Take A Stand Against GMOs (Eat Organic) | Make Green Foods A Priority
036: Whitney Lauritsen – Live (More) Eco Friendly, Eat Organic On A Budget, Avoid Vegan Junk Food
Note: Some of the links above are affiliate links. Making a purchase through these links won't cost you anything but we will receive a small commission. This is an easy, free way of supporting the podcast. Thank you!
How can you support our podcast?
1. Apple users, please subscribe and review our show on Apple Podcasts, we make sure to read them all. Android users, be sure to subscribe to our show on Google Podcasts. Subscribers never miss any of the action 😉
2. Tell a friend about The Ultimate Health Podcast. They will surely thank you later. You can use the envelope button below to email a friend or tell them about TUHP in person.
3. Join TUHP Facebook community (FREE). This is where we all stay in touch and ask questions in between episodes. Join our community.
4. Follow our adventures on our favourite social media platform, Instagram.
5. Download The Ultimate Health Podcast app (FREE). This way you'll have our whole library of episodes right at your fingertips. Download our iOS/Apple app or our Android app.
6. Share using the buttons below.
Thank you!