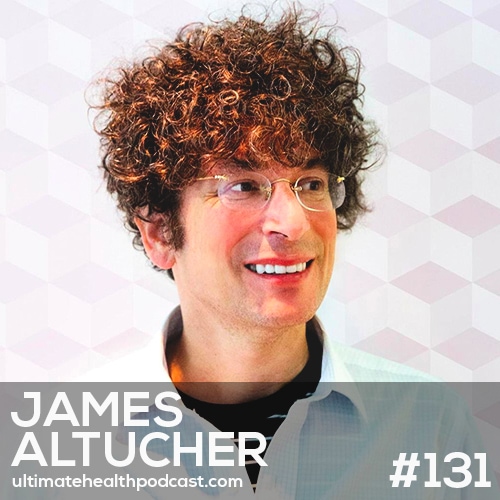 James Altucher is a successful entrepreneur, chess master, investor, and writer.
He's been inspiring people both in person through hundreds of events and through weekly Q&A Twitter sessions by speaking on topics including stress, fear, anxiety, money, and relationships.
James' writing has appeared in most major national media outlets, including the Wall Street Journal, ABC, Elephant Journal, Tech Crunch, Forbes, and CNBC. His blog, The Altucher Confidential, has attracted more than 10 million readers since its launch in 2010 and he hosts The James Altucher Show, a popular podcast. James is the author of eighteen books, including the motivational bestseller Choose Yourself.
In this episode, we discuss:
James' upcoming book – Reinvent Yourself
People judge books by their covers
Don't ride the wave of your success, continue to reinvent yourself
Deeply connecting with people through authenticity
It's time to choose yourself
Can we all choose ourselves, is there enough room?
The Daily Practice – Maintaining your four bodies… physical, emotional, mental, and spiritual
A simple way to exercise your idea muscle
Eating, moving, and sleeping are the keys to maintaining your physical health
Jame's morning routine (part of it)
Choose who you spend your time with wisely
James' love for TV and what he's watching right now
Stop resisting Netflix
Stop time travelling (anxiety and regret)… be more present
Difficult gratitude problems
The only thing that actually counts is doing
You don't have to be productive all the time, you just need to live all the time
Social media may be beneficial for introverts
Embrace your comfort zone… too
Think twice before you say "yes"
Warren Buffet's 5/25 Rule
Living as an extreme minimalist
Related links:
Raw Elements <== 10% off all Raw Elements products – Apply the code TUHP at checkout (free shipping over $100)*
Sunwarrior <== 10% off all Sunwarrior products (free shipping over $100)*
Follow TUHP on Instagram
Join our Facebook Community
James Altucher's website
The James Altucher Show (podcast)
Follow James on Instagram
James Altucher – Choose Yourself! (book)*
James Altucher – The Power of No (book)*
James Altucher – I Was Blind But Now I See (book)*
James Altucher – My Daddy Owns All of Outer Space (kid's book)*
Claudia Azula Altucher & James Altucher – Become An Idea Machine (book)*
James Altucher's other books*
Steven Levitt & Stephen Dubner – Freakonomics (book)*
Arianna Huffington previously on TUHP (episode #107)
Lost TV show*
House of Cards TV show*
This Is Us TV show*
People mentioned:
Tim Ferriss
Robert Rodriguez
Louis CK
Note: Links marked with an asterisk (*) are affiliate links. Making a purchase through these links won't cost you anything but we will receive a small commission. This is an easy, free way of supporting the podcast. Thank you!
How can you support our podcast?
1. Apple users, please subscribe and review our show on iTunes, we make sure to read them all. Android users, be sure to subscribe to our show on Google Play Music. Subscribers never miss any of the action 😉
2. Tell a friend about The Ultimate Health Podcast. They will surely thank you later. You can use the envelope button below to email a friend or tell them about TUHP in person.
3. Join TUHP Facebook group (FREE). This is where we all stay in touch and ask questions in between episodes. Join our community here.
4. Download our Habits app for iOS. You choose the healthy habits you want to implement and maintain and our app will help keep you on track. Download Habits app here.
5. Share using the buttons below.
Thank you!