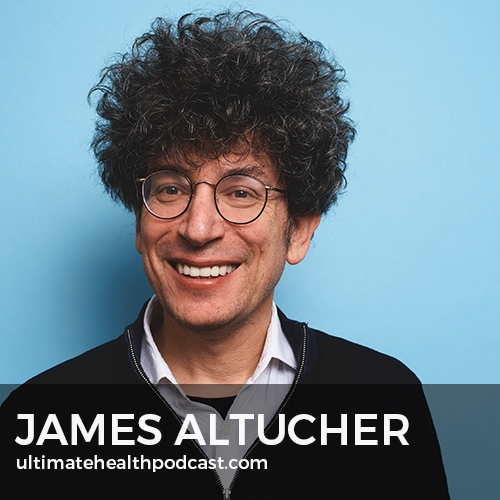 James Altucher (IG: @altucher) is a successful entrepreneur, angel investor, chess master and prolific writer. He's started 20 companies (17 have failed but he's learned a lot along the way) and is currently invested in over 30.
James is the author of 18 books, including Wall Street Journal bestsellers: 'The Power of No' and 'Choose Yourself'. His latest book, "Reinvent Yourself" was #1 in the Amazon store shortly after its release.
His blog, JamesAltucher.com, has attracted more than 20 million readers since its launch in 2010. James hosts a successful podcast, "The James Altucher Show" which has over 30 million downloads.
(Subscribe in Apple Podcasts)
(Subscribe in Google Podcasts)

In this episode, we discuss:
James' experiment with minimalism
Always rent, don't buy a home
The idea of practicing change
Money, materialism, and consumerism
Comedians see the truth
Challenge yourself
10 ideas a day
Executing on an idea
Self-care is a part of life
Practice staying in the moment
Don't read the newspaper or watch the news
Lessons James learned from his Dad
What is success?
Invest in improving yourself
Defining freedom
Improving relationships
Time to rest, time to rejuvenate
Don't let money get in the way
Always focus on what's happening now
Show sponsors:
Thrive Market <== As a new customer you get a free 30-day membership, 25% off your order, and free shipping (US only)
Beekeeper's Naturals <== 15% off all Beekeeper's Naturals products (free shipping on orders $60 or more)
Four Sigmatic <== 15% off all Four Sigmatic products (free shipping on orders $100 or more)
Organifi <== 20% off all Organifi products
Related links:
The Ultimate Baby (TUB) Tea Collection inspired by Marni (Chalice Spice)
James Altucher – Reinvent Yourself (book)
James Altucher's website
Follow James Altucher on Facebook, Instagram, and Twitter
James Altucher – Choose Yourself (book)
James Altucher (books)
The James Altucher Show (podcast)
Listen to James Altucher previously on TUHP (episode #131)
Kindle (app)
Willy Wonka & the Chocolate Factory (movie)
Related episodes:
307: Elizabeth Willard Thames aka Mrs. Frugalwoods – Financial Independence Through Simple Living
286: Cal Newport – Digital Minimalism • Create Time For Solitude • Stop Socializing On Social Media
252: Srinivas Rao – Creating For An Audience Of One • Creativity Leads To Happiness • Cognitive Bandwidth
168: Dr. Sachin Patel – Create Better Eating Habits • Heart Rate Variability • Pursue Happiness
132: Ryan Nicodemus – The Minimalists • Gift Giving… The Healthy Way • Give Yourself A Pay Raise By Spending Less
Note: Some of the links above are affiliate links. Making a purchase through these links won't cost you anything but we will receive a small commission. This is an easy, free way of supporting the podcast. Thank you!
How can you support our podcast?
1. Apple users, please subscribe and review our show on Apple Podcasts, we make sure to read them all. Android users, be sure to subscribe to our show on Google Podcasts. Subscribers never miss any of the action 😉
2. Tell a friend about The Ultimate Health Podcast. They will surely thank you later. You can use the envelope button below to email a friend or tell them about TUHP in person.
3. Join TUHP Facebook community (FREE). This is where we all stay in touch and ask questions in between episodes. Join our community.
4. Follow our adventures on our favourite social media platform, Instagram.
5. Download The Ultimate Health Podcast app (FREE). This way you'll have our whole library of episodes right at your fingertips. Download our iOS/Apple app or our Android app.
6. Share using the buttons below.
Thank you!