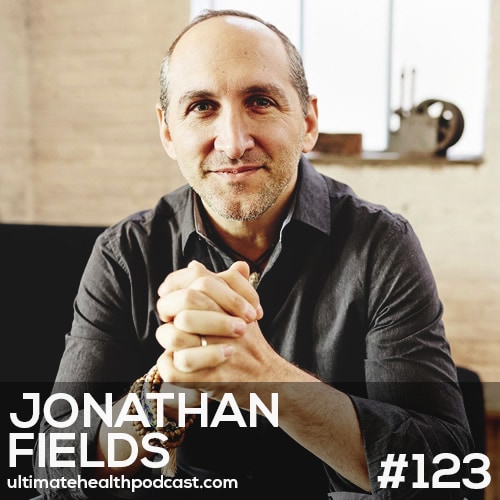 Jonathan Fields inspires possibility.
He's a dad, husband, serial entrepreneur, growth strategist, and award-winning author.
Jonathan runs mission-driven media and education venture, Good Life Project, where he and his team lead a global community in the quest to live more meaningful, connected, and vital lives.
Good Life Project is a top-rated podcast and video-series with millions of listens and views in more than 150 countries, where Jonathan regularly shares conversations with the world's leading voices like Sir Ken Robinson, Elizabeth Gilbert, Milton Glaser, Brene Brown, Gretchen Rubin, and hundreds more.
When not building ventures, writing, and producing, Jonathan can be found dancing around his living room with his wife and daughter, listening to "real music."
In this episode, we discuss:
How "How to Live a Good Life" differs from his previous books
Blending being an artist and entrepreneur
What is Good Life Project and what makes it so successful?
Jonathan's wake up call during his depleted lawyer phase
There are no breakthroughs without uncertainty
Don't aim for work life balance, aim for work life blend
Your three buckets… connection, contribution, and vitality
How do you know what bucket to fill first?
The bucket that needs filling isn't always obvious
You're only as strong as your least full bucket
When all 3 buckets are dry, get quality sleep
Jonathan's sleep strategies
Reset your body in nature
A sense of belonging is essential for survival
Relationships require both give and take
Give to glow
The practice of saying "no"
Money and happiness are byproducts, not the goal
Being intentional
Related links:
Sunwarrior <== 20% off all Sunwarrior products & free shipping over $50 (US only)
Raw Elements <== 10% off all Raw Elements products – Apply the code TUHP at checkout (free shipping over $100)
Jonathan Fields – How to Live a Good Life (book)
Jonathan Fields' website
Follow Jonathan Field on Facebook, Instagram, and Twitter
Good Life Project
Listen and subscribe to Good Life Project Radio – iTunes/Stitcher
Jonathan Fields – Uncertainty (book)
Jonathan Fields – Career Renegade (book)
f.lux
Adam Grant – Give and Take (book)
Related episodes:
263: Jonathan Fields – Uncovering The Work That Sparks You
252: Srinivas Rao – Creating For An Audience Of One • Creativity Leads To Happiness • Cognitive Bandwidth
279: Sally Hogshead – How To Fascinate • Unlearn Boring • Finding Balance In The Workplace
312: James Altucher – Reinvent Yourself, Defining Freedom, Comedians See The Truth
313: Chase Jarvis – Creativity Is A Habit (Not A Skill) Available To Everyone
Note: Some of the links above are affiliate links. Making a purchase through these links won't cost you anything but we will receive a small commission. This is an easy, free way of supporting the podcast. Thank you!
How can you support our podcast?
1. Apple users, please subscribe and review our show on Apple Podcasts, we make sure to read them all. Android users, be sure to subscribe to our show on Google Podcasts. Subscribers never miss any of the action 😉
2. Tell a friend about The Ultimate Health Podcast. They will surely thank you later. You can use the envelope button below to email a friend or tell them about TUHP in person.
3. Join TUHP Facebook community (FREE). This is where we all stay in touch and ask questions in between episodes. Join our community.
4. Follow our adventures on our favourite social media platform, Instagram.
5. Download The Ultimate Health Podcast app (FREE). This way you'll have our whole library of episodes right at your fingertips. Download our iOS/Apple app or our Android app.
6. Share using the buttons below.
Thank you!