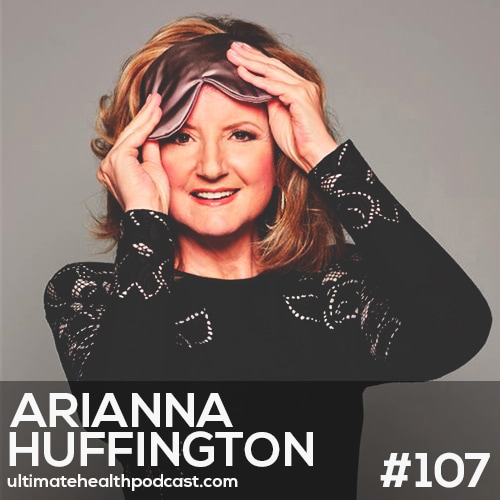 Arianna Huffington is the co-founder and editor in chief of The Huffington Post. She's the author of fifteen books. Arianna's latest book, The Sleep Revolution, was an instant New York Times Bestseller.
She's been named to Time Magazine's list of the world's 100 most influential people and the Forbes Most Powerful Women list.
The secret to her success… quality sleep.
In this episode, we discuss:
The positive influence of Arianna's mother
Sleep deprivation negatively affects every aspect of your health
Sleep allows our brains to wash away toxins
Can you use your energy level upon awakening as a gauge to see if you're getting enough sleep?
Are naps a good thing?
Nutrition, exercise, and the third pillar of health
Sleep solutions for nightshift workers
A good day starts the night before
Would the Huffington Post have been as successful, as fast, without Arianna burning the candle at both ends?
Turn your bedroom into a sleep sanctuary
Wind down before sleep by creating some transition time
No screens in bed
Guided meditation before bed
Teas that help you relax for a better sleep
Should you eat before bed?
Dreams are such an important part of our lives
Why some people remember their dreams (Marni) and others don't (Jesse)
The one non-negotiable item for next level sleep
Links to things we mentioned:
Sunwarrior <== 10% off all Sunwarrior products (free shipping over $100)*
Arianna Huffington – The Sleep Revolution (book)*
Arianna Huffington's website
Arianna's guided meditation
Note: Links marked with an asterisk (*) are affiliate links. Making a purchase through these links won't cost you anything but we will receive a small commission. This is an easy, free way of supporting the podcast.
How can you support our podcast?
1. Apple users, please subscribe and review our show on iTunes, we make sure to read them all. Android users, be sure to subscribe to our show on Google Play Music. Subscribers never miss any of the action 😉
2. Tell a friend about The Ultimate Health Podcast. They will surely thank you later. You can use the envelope button below to email a friend or tell them about TUHP in person.
3. Join TUHP Facebook group (FREE). This is where we all stay in touch and ask questions in between episodes. Join our community here.
4. Download our Habits app for iOS. You choose the healthy habits you want to implement and maintain and our app will help keep you on track. Download Habits app here.
5. Share using the buttons below.
Thank you!