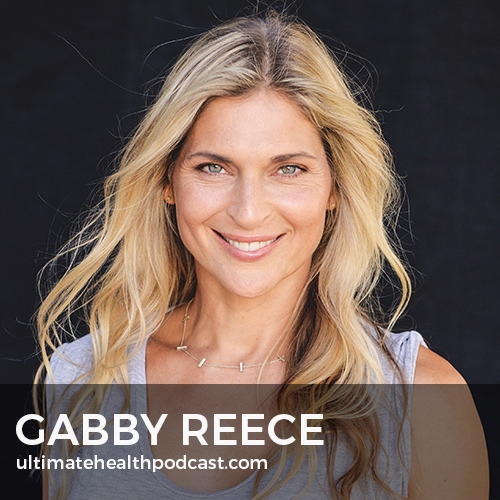 Gabby Reece (IG: @gabbyreece) is a world renowned athlete, New York Times bestselling author, wife, and mother.
She's a former professional beach volleyball player and Nike's first female spokeswoman. Gabby's commanding presence, passion for healthy living, and fitness expertise makes her a popular leader in the world of health and wellness.
Together with her husband, Laird Hamilton, Gabby created Extreme Performance Training (XPT).
(Subscribe in Apple Podcasts)
(Subscribe in Google Podcasts)
In this episode, we discuss:
You are not defined by your identity
Making personal health a priority
Approaching motherhood like an athlete
Be accountable, take responsibility
Life isn't perfect, it's about evolving
Adapting to your surroundings
Keeping things simple
Being connected to nature
How to keep your relationship balanced
Advice for new parents
Being a good example for your children
Parenting teenagers
Releasing the idea of controlling people
Gabby's progression into extreme sports
Meeting her husband… Laird Hamilton
Relationships are about partnerships
Celebrating your victories together
Developing a growth mindset
Show sponsors:
Thrive Market <== Get your membership for as low as $5 a month & receive $20 in shopping credit with a 1 year membership (US only)
Four Sigmatic <== 15% off all Four Sigmatic products (free shipping on orders $100 or more)
Sleep On Latex <== All mattresses ship same day and can be returned for free within 100 days
Organifi <== 20% off all Organifi products
Related links:
Gabby Reece – My Foot Is Too Big For The Glass Slipper (book)
Gabby Reece's website
Follow Gabby Reece on Facebook, Instagram, and Twitter
Laird Superfood
XPT
XPT Life (app)
Listen to Laird Hamilton previously on TUHP (episode #323)
Pete Cabrinha
Dr. Joe Dispenza – Becoming Supernatural (book)
Listen to Dr. Joe Dispenza previously on TUHP (episode #296)
Related episodes:
308: Hal Elrod – The Miracle Equation, Become Emotionally Invincible, Do Work That You Love
269: don Miguel Ruiz Jr – The Seven Secrets To Healthy, Happy Relationships
221: Dr. John Demartini – The Power Of Delegation • Fear Is A Gift • Healthy Romantic Relationships
190: Dr. Michael Gervais – Finding Mastery • How To Train Optimism • Pain Is Necessary For Change
142: Dr. Bruce Lipton – The Biology Of Belief • How To Reprogram Your Subconscious Mind • The Importance Of Loving Yourself
Note: Some of the links above are affiliate links. Making a purchase through these links won't cost you anything but we will receive a small commission. This is an easy, free way of supporting the podcast. Thank you!
How can you support our podcast?
1. Apple users, please subscribe and review our show on Apple Podcasts, we make sure to read them all. Android users, be sure to subscribe to our show on Google Podcasts. Subscribers never miss any of the action 😉
2. Tell a friend about The Ultimate Health Podcast. They will surely thank you later. You can use the envelope button below to email a friend or tell them about TUHP in person.
3. Join TUHP Facebook community (FREE). This is where we all stay in touch and ask questions in between episodes. Join our community.
4. Follow our adventures on our favourite social media platform, Instagram.
5. Download The Ultimate Health Podcast app (FREE). This way you'll have our whole library of episodes right at your fingertips. Download our iOS/Apple app or our Android app.
6. Share using the buttons below.
Thank you!