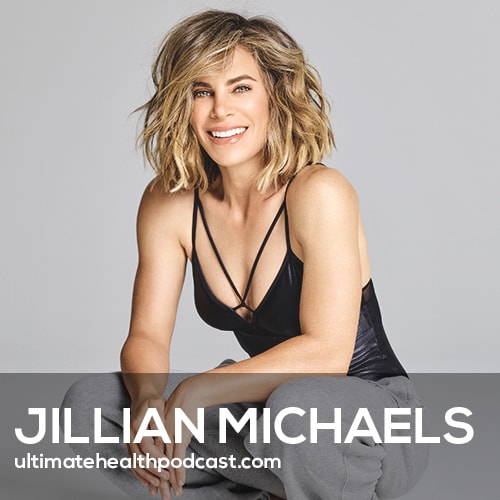 Jillian Michaels (IG: @jillianmichaels) is the world's leading fitness expert, renowned nutritionist and wellness entrepreneur. With an international community of followers exceeding 100 million, Jillian's dominance in health and wellness extends to her award-winning The Fitness App by Jillian Michaels, successful fitness DVDs, top exercises streaming platform, 8 New York Times bestselling books, live speaking engagements, popular social media channels, a top podcast, and a list of key business partnerships and investments.
Watch the full video version of this conversation below.
In this episode, we discuss:
Focus on how working out makes you feel, not the process
The origin story of how Jillian got into fitness at age 12
The period of time Jillian worked as a personal trainer & bartender in her early 20's
Getting fired from the entertainment industry motivated Jillian to open a sports medicine facility
Success comes from passion, perseverance, and patience
The different mentality between Gen X and Millennials
Fear is a huge motivator
Redefine your idea of success
Growing The Fitness App into a one-stop shop for wellness
The way food and lifestyle impact endocrinology
Jillian's PCOS reveal
Intermittent fasting increases longevity
If you are trying to lose weight, avoid alcohol
The common sense diet
Jillian's current workout routine
Customizing your fitness, nutrition, and mindfulness practice
Show sponsors:
Organifi <== 20% off all Organifi products
Paleovalley <== 15% off all Paleovalley products by using the code ultimatehealth at checkout
Alitura <== 20% off your first order of Alitura's life-changing skin care products by using the code ultimatehealth at checkout
Related links:
The Fitness App by Jillian Michaels
Jillian Michaels' website
Follow Jillian Michaels on Facebook, Instagram, and YouTube
Jillian Michaels – Master Your Metabolism (book)
Jillian Michaels (books)
Keeping It Real: Conversations with Jillian Michaels
The Biggest Loser
Jim Donovan
Taylor Walker
Listen to Taylor Walker previously on TUBP (episode #21)
Jamie McFaden
Dr. William Li – Eat To Beat Disease (book)
Listen to Dr. William Li previously on TUHP (episode #316)
David Sinclair – Lifespan (book)
Related episodes:
From Mr. Universe to Mr. Marshmallow & Eventually Finding True Health With Wade Lightheart (#414)
383: Tara Stiles – Why Doesn't Everybody Do Yoga?
324: Gabby Reece – Life Isn't Perfect, Motherhood, Developing A Growth Mindset
323: Laird Hamilton – Born To Surf, XPT (Extreme Performance Training), Ice Baths & Saunas
292: Chalene Johnson – 131 Method • Family Comes First • Stop The Food Rules
How can you support our podcast?
1. Apple users, please subscribe and review our show on Apple Podcasts, we make sure to read them all. Android users, be sure to subscribe to our show on Google Podcasts. Subscribers never miss any of the action 😉
2. Tell a friend about The Ultimate Health Podcast. They will surely thank you later. You can use the envelope button below to email a friend or tell them about TUHP in person.
3. Join TUHP Facebook community (FREE). This is where we all stay in touch and ask questions in between episodes. Join our community.
4. Follow our adventures on our favourite social media platform, Instagram.
5. Download The Ultimate Health Podcast app (FREE). This way you'll have our whole library of episodes right at your fingertips. Download our iOS/Apple app or our Android app.
6. Share using the buttons below.
Thank you!