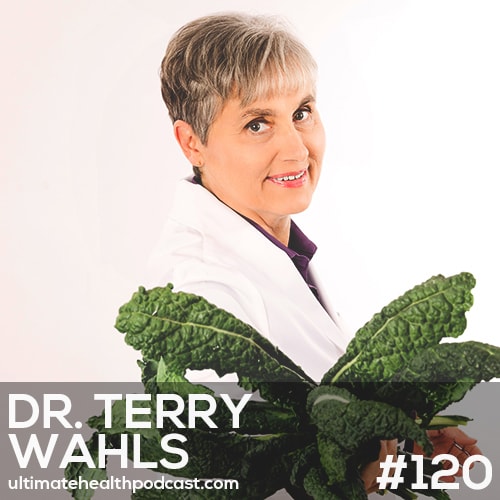 Dr. Terry Wahls is a clinical professor of medicine at the University of Iowa and a staff physician at the Iowa City Veterans Affairs Hospital.
Dr. Wahls is also a patient with a chronic progressive neurological disorder, secondary progressive multiple sclerosis, which confined her to a tilt-recline wheelchair for four years. But thanks to the power of the Wahls Protocol™, which is based on functional medicine and the Wahls Paleo™ diet, Dr. Wahls restored her health and now pedals her bike five miles to work each day.
In this episode, we discuss:
Dr. Wahls' battle with multiple sclerosis
Has Dr. Wahls overcome MS?
What is MS?
Was the vegetarian diet a factor in Dr. Wahls' health decline?
The evolution of your mitochondria
How to fuel your mitochondria
The three levels of the Wahls Diet
It's time to stop eating gluten, dairy and eggs
Is MSM a good source of sulfur?
Does red meat contain nutrients not found in chicken and fish?
Ways of including seaweed into your diet
Organ meats for beginners
Is the ketogenic diet for everyone?
MCT oil and exogenous ketones
Feeding your microbiome with carbohydrates
Using electrical stimulation of muscles to accelerate the benefits of exercise
We need stress in our lives
Related links:
Sunwarrior <== 20% off all Sunwarrior products & free shipping over $50 (US only)
Raw Elements <== 10% off all Raw Elements products – Apply the code TUHP at checkout (free shipping over $100)
Dr. Terry Wahls' website
Follow Dr. Terry Wahls on Facebook, Instagram, and Twitter
Dr. Terry Wahls – The Wahls Protocol (book)
Dr. Loren Cordain (books)
Pruvit – KETO//OS exogenous ketones (US/Canada)
Related episodes:
287: Dr. Steven Gundry – The Longevity Paradox • Exercise Impacts Your Microbiome • Top Sources Of Polyphenols
214: Dr. Mark Hyman – What The Heck Should I Eat? • Ketogenic Diet Hype • Meat As A Condiment
133: Dr. Dom D'Agostino – Understanding The Ketogenic Diet And Ketones
126: Jimmy Moore – The Ketogenic Diet & The Health Benefits Of Being In Ketosis • Fasting 101
119: Dr. Amy Myers – The Thyroid Connection • The Impact of Goitrogens • Hyper vs Hypothyroidism
Note: Some of the links above are affiliate links. Making a purchase through these links won't cost you anything but we will receive a small commission. This is an easy, free way of supporting the podcast. Thank you!
How can you support our podcast?
1. Apple users, please subscribe and review our show on Apple Podcasts, we make sure to read them all. Android users, be sure to subscribe to our show on Google Podcasts. Subscribers never miss any of the action 😉
2. Tell a friend about The Ultimate Health Podcast. They will surely thank you later. You can use the envelope button below to email a friend or tell them about TUHP in person.
3. Join TUHP Facebook community (FREE). This is where we all stay in touch and ask questions in between episodes. Join our community.
4. Follow our adventures on our favourite social media platform, Instagram.
5. Download The Ultimate Health Podcast app (FREE). This way you'll have our whole library of episodes right at your fingertips. Download our iOS/Apple app or our Android app.
6. Share using the buttons below.
Thank you!