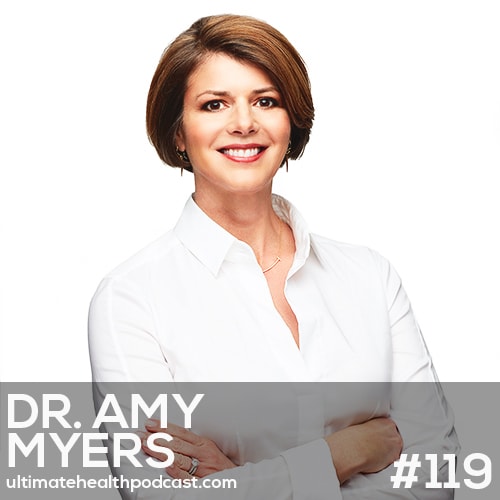 Dr. Amy Myers is a renowned leader in functional medicine and a New York Times bestselling author of The Autoimmune Solution. She received her Doctorate in Medicine from LSU Health Sciences Center and spent 5 years working in emergency medicine before training with the Institute of Functional Medicine. Amy has helped thousands around the world recover from chronic illness through her dietary-based program, The Myers Way®.
Today's interview is focused on the thyroid, the topic of her new book, The Thyroid Connection.
In this episode, we discuss:
Before Amy was a thyroid doc, she was a thyroid patient
Your thyroid regulates every cell in your body
Hypothyroidism vs. hyperthyroidism
The lab work Amy recommends for anyone suspecting they may have thyroid dysfunction
If your conventional doctor says your thyroid is ok… they may be wrong
What is functional medicine?
The impact of stress on your thyroid gland
Ways to combat psychological stress
How infections can negatively impact your thyroid
There isn't a great way to test your iodine level
Two ways gluten can cause thyroid dysfunction
The diet that supports a healthy thyroid gland
Most people are vitamin D deficient
The impact of goitrogens on your thyroid
Amy's healthy morning routine
Related links:
CoreChair <== 10% off your CoreChair purchase – Apply the code tuhpcc at checkout (free shipping in North America)*
Sunwarrior <== 10% off all Sunwarrior products (free shipping over $100)*
Dr. Amy Myers' website
Dr. Amy Myers – The Thyroid Connection (book)*
Dr. Amy Myers – The Autoimmune Solution (book)*
HeartMath Inner Balance*
Dr. Terry Wahls
Note: Links marked with an asterisk (*) are affiliate links. Making a purchase through these links won't cost you anything but we will receive a small commission. This is an easy, free way of supporting the podcast.
How can you support our podcast?
1. Apple users, please subscribe and review our show on iTunes, we make sure to read them all. Android users, be sure to subscribe to our show on Google Play Music. Subscribers never miss any of the action 😉
2. Tell a friend about The Ultimate Health Podcast. They will surely thank you later. You can use the envelope button below to email a friend or tell them about TUHP in person.
3. Join TUHP Facebook group (FREE). This is where we all stay in touch and ask questions in between episodes. Join our community here.
4. Download our Habits app for iOS. You choose the healthy habits you want to implement and maintain and our app will help keep you on track. Download Habits app here.
5. Share using the buttons below.
Thank you!