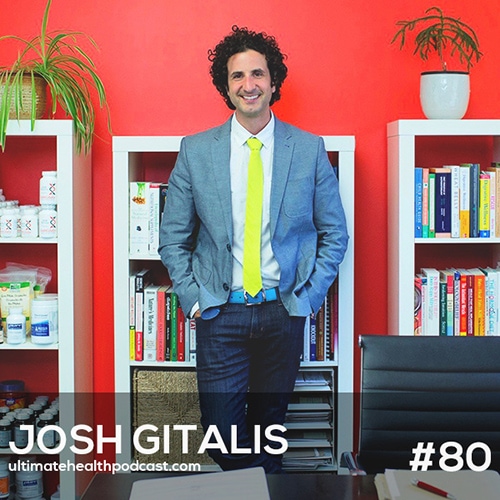 On this week's show, we are speaking with Clinical Nutritionist, Josh Gitalis. His areas of expertise include clinical detoxification and therapeutic supplementation. Josh runs a private practice in Toronto and has a client base that spans across the globe. We thoroughly enjoyed having him back on the show a second time!
In this episode, we discuss:
Enemas vs. colonics
You need to sweat, any way you can
Your 5 channels of elimination
Using a sauna as a powerful detoxification tool
Take your next sauna session to the next level with niacin
Mental health issues are the leading cause of disability worldwide
Maintaining balance between your sympathetic and parasympathetic nervous system
There are many natural options you can try before antidepressants
Heart rate variability (HRV)… are you in coherence?
A handful of inexpensive ways to get your body in a parasympathetic state
Symptoms you may be experiencing if you're suffering from adrenal fatigue
How to naturally rebuild your adrenals
Adaptogenic herbs help your body adapt to stress
4 supplements most people can't go wrong with
Synthetic vs. whole food supplements
The power of the breath
Links to things we mentioned:
Josh Gitalis' website
Josh Gitalis' online course – Mental Health & Neurology – no longer available
Josh Gitalis's free webinar – The Two Key Pillars of Mental Health
Josh's previous interview on TUHP (episode #4)
Gerson Therapy
Dr. Nicholas Gonzalez
Dr. Bernard Jensen
Candace Pert – Molecules of Emotion (book)*
Dr. Daniel Amen Amazon page*
Dr. David Perlmutter Amazon page*
Dr. Kelly Brogan
HeartMath Inner Balance*
Headspace
AOR Ortho-adapt*
Now Foods Rhodiola*
Sunwarrior <== 10% off all Sunwarrior products (free shipping over $100)
TUHP Facebook group
Note: Links marked with an asterisk (*) are affiliate links. Making a purchase through these links won't cost you anything but we will receive a small commission. This is an easy, free way of supporting the podcast.
How can you support our podcast?
1. Subscribe and review our show on iTunes and Stitcher. We make sure to read them all.
2. Tell a friend about The Ultimate Health Podcast. They will surely thank you later.
3. Share using the buttons below.
Thank you!