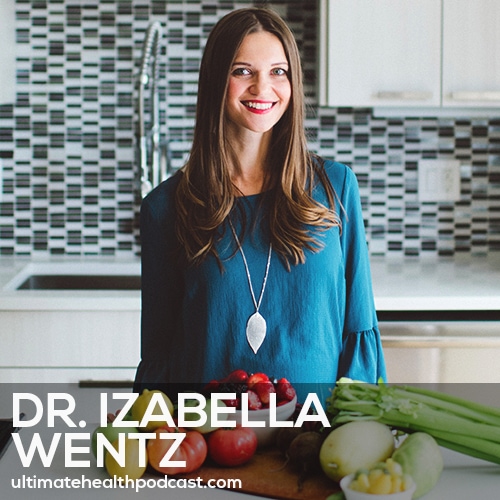 Dr. Izabella Wentz (IG: @izabellawentzpharmd) is an internationally acclaimed thyroid specialist and licensed pharmacist who has dedicated her career to addressing the root causes of autoimmune thyroid disease after being diagnosed with Hashimoto's Thyroiditis in 2009. She's a 2x New York Times bestselling author and director of the documentary series, The Thyroid Secret.
In this episode, we discuss:
Izabella's Hashimoto's diagnosis after 10 years of confusing symptoms
Why Izabella still had symptoms after taking thyroid medication
The impact of going gluten & dairy-free
Linking Izabella's pharmaceutical background & thyroid research together
How common is Hashimoto's?
Types of thyroid testing
Microscope testing vs. ultrasounds
What is the safety theory?
Why the paleo diet is recommended for Hashimoto's over vegan/vegetarian diets
Digestive enzymes explained
The 7 most common nutrient deficiencies in Hashimoto's
Stress, trauma & autoimmune conditions
Izabella shares her personal trauma of losing a loved one
How EMDR therapy helped with Izabella's healing
Thyroid medication recommendations
Pregnancy & thyroid meds
Addressing the underlying autoimmune condition
Show sponsors:
Organifi <== 20% off all Organifi products
Four Sigmatic <== 15% off all Four Sigmatic products (free shipping on orders $100 or more)
Beekeeper's Naturals <== 15% off all Beekeeper's Naturals products (free shipping on orders $60 or more)
Thrive Market <== As a new customer you get a free 30-day membership, 25% off your order, and free shipping (US only)
Related links:
Dr. Izabella Wentz – Hashimoto's Food Pharmacology (book)
Dr. Izabella Wentz's website
Follow Dr. Izabella Wentz on Facebook, Instagram, and Twitter
Dr. Izabella Wentz – Hashimoto's Protocol (book)
Dr. Izabella Wentz – Hashimoto's Thyroiditis (book)
Dr. Izabella Wentz – How Betaine with Pepsin Can Help with Hashimoto's (article)
Dr. Izabella Wentz – Using Enzymes to Overcome Hashimoto's (article)
Dr. Izabella Wentz – The 7 Most Common Nutrient Deficiencies in Hashimoto's (article)
Eye movement desensitization and reprocessing (EMDR)
Dr. Jacob Teitelbaum (books)
Healing & Dealing with Hashi's (Marni & Samantha's Online Course)
Related episodes:
258: Samantha Gladish – Healing Hashimoto's • Coming Off The Pill • Tracking Your Cycle
256: Dr. Datis Kharrazian – Why Do I Still Have Thyroid Symptoms? • Understanding Iodine • Vitamin D & Autoimmunity
254: Sarah Ballantyne – Pregnancy And Hypothyroidism • Reintroductions On AIP • The Cruciferous Vegetable Myth
228: Focus Friday – Healing And Dealing With Hashimoto's
156: Elle Russ – Reclaim Your Thyroid Health
Note: Some of the links above are affiliate links. Making a purchase through these links won't cost you anything but we will receive a small commission. This is an easy, free way of supporting the podcast. Thank you!
How can you support our podcast?
1. Apple users, please subscribe and review our show on Apple Podcasts, we make sure to read them all. Android users, be sure to subscribe to our show on Google Podcasts. Subscribers never miss any of the action 😉
2. Tell a friend about The Ultimate Health Podcast. They will surely thank you later. You can use the envelope button below to email a friend or tell them about TUHP in person.
3. Join TUHP Facebook community (FREE). This is where we all stay in touch and ask questions in between episodes. Join our community.
4. Follow our adventures on our favourite social media platform, Instagram.
5. Download The Ultimate Health Podcast app (FREE). This way you'll have our whole library of episodes right at your fingertips. Download our iOS/Apple app or our Android app.
6. Share using the buttons below.
Thank you!