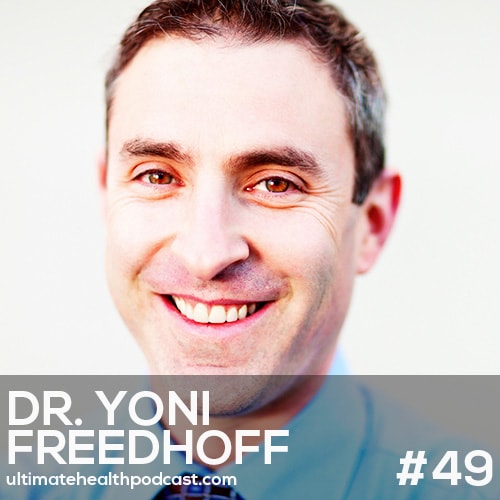 On this week's show, we are featuring one of Canada's most outspoken obesity experts, Dr. Yoni Freedhoff. He is an assistant professor of family medicine at the University of Ottawa. Yoni is the author of The Diet Fix and he writes regularly for his award-winning blog, Weighty Matters.
In this episode, we discuss:
When it comes to corruption in the food marketplace we need to stop blaming the food industry
Changes in the food industry can't happen fast
Is the internet helping or hindering positive changes?
We still have a lot to learn when it comes to nutrition
Confusing customers with food labels
Eating healthy distilled down into one simple rule
BMI isn't a useful tool
Learn how to calculate your "best weight"
Chocolate milk has double the calories and 20% more sugar than Coca-Cola
Managing childhood obesity
Exercise makes you healthy, not skinny
There isn't one perfect diet for everyone
Cheat days are not the answer
Food is not just calories, it provides the building blocks for our bodies
Staying ahead of food cravings and hunger
Yoni's morning routine, including breakfast
Embracing imperfection
Related Links:
Sunwarrior <== 20% off all Sunwarrior products (free shipping on orders over $50)
Weighty Matters – Dr. Yoni Freedhoff's website
Follow Dr. Yoni Freedhoff on Facebook, and Twitter
Dr. Yoni Freedhoff – The Diet Fix (book)
World's Most Dangerous Piece of Cake (Yoni's blog post)
Related episodes:
281: Vani Hari aka Food Babe – Feeding You Lies • Non-GMO vs. Organic • Life As A New Mom
020: Vani Hari aka Food Babe – "Natural" Means Nothing, Yoga Mat Sandwiches, Scary Meat Alternatives
099: Dr. Jeffrey Eisenberg – Suckered: The History Of Sugar, Our Toxic Addiction, Our Power To Change
200: Evan Brand – We Evolved To Be Outdoors • Find Your Why • Are EMFs The New Smoking?
056: Alex Jamieson – Cravings vs. Hunger | Sugar Kills Libido | Have Fun In Your Body
Note: Some of the links above are affiliate links. Making a purchase through these links won't cost you anything but we will receive a small commission. This is an easy, free way of supporting the podcast. Thank you!
How can you support our podcast?
1. Apple users, please subscribe and review our show on Apple Podcasts, we make sure to read them all. Android users, be sure to subscribe to our show on Google Podcasts. Subscribers never miss any of the action 😉
2. Tell a friend about The Ultimate Health Podcast. They will surely thank you later. You can use the envelope button below to email a friend or tell them about TUHP in person.
3. Join TUHP Facebook community (FREE). This is where we all stay in touch and ask questions in between episodes. Join our community.
4. Follow our adventures on our favourite social media platform, Instagram.
5. Download The Ultimate Health Podcast app (FREE). This way you'll have our whole library of episodes right at your fingertips. Download our iOS/Apple app or our Android app.
6. Share using the buttons below.
Thank you!