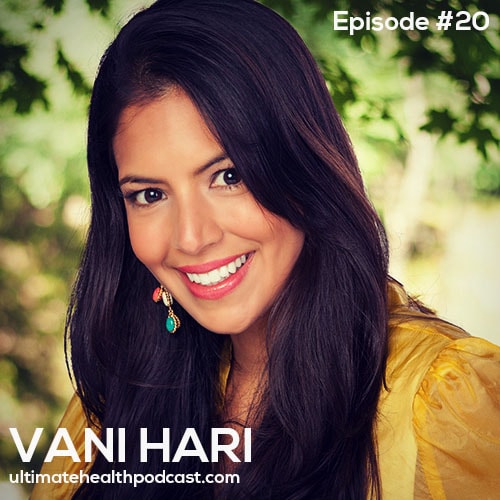 On today's show, we are speaking with real food advocate, Vani Hari (Food Babe). She is on a mission to keep our food products free of artificial dyes, flavourings and sweeteners. Vani is also anti GMOs, antibiotics in meats, chemicals, food additives and preservatives. Her activism has lead to big changes in the food industry, positively influencing companies such as Subway, Kraft and Starbucks.
In this episode, we discuss:
Vani's health journey from childhood to sickness and now thriving
How did the name Food Babe and the Food Babe Army come to be?
The growth of Vani's blog and her first taste of activism
How Vani was able to get a chemical found in yoga mats removed from Subway bread in North America
The push back Vani has gotten from companies such as Kraft and Starbucks
You must become an ingredient label expert and if you don't know an ingredient then put the product down
How the word "natural" is unregulated
The scary truth about over processed, fake veggie products
You will feel better by ditching the processed foods
Packaged foods can be good for you
Cooking with coconut oil over olive oil
Grass fed butter and ghee are healthy fats in the kitchen
Related Links:
The Food Babe Way (book)
Vani's website (Food Babe)
Follow Food Babe on Facebook, Instagram, and Twitter
Gabriel Cousens M.D. – Spiritual Nutrition (book)
Yellow Barn Dynamic Pasta Sauce
Late July Snacks
Food For Life – Ezekiel Bread
Tolerant Pasta
Dr. Mark Hyman
Dr. Mark Hyman (books)
Related Shows:
074: Dr. Mark Hyman – Create An Emergency Food Pack | The Pegan Diet | Sugar Is The New Fat
084: Dr. Mark Hyman – Saturated Fat Isn't The Enemy | Eat Fat, Get Thin | Stop Fearing Cholesterol
214: Dr. Mark Hyman – What The Heck Should I Eat? • Ketogenic Diet Hype • Meat As A Condiment
006: Joe Cross – Reboot Your Body With Juice
072: Dr. Kellyann Petrucci – Everything You Ever Wanted To Know About Bone Broth | Foods For Glowing Skin
Note: Some of the links above are affiliate links. Making a purchase through these links won't cost you anything but we will receive a small commission. This is an easy, free way of supporting the podcast. Thank you!
How can you support our podcast?


1. Apple users, please subscribe and review our show on Apple Podcasts, we make sure to read them all. Android users, be sure to subscribe to our show on Google Podcasts. Subscribers never miss any of the action ;)


2. Tell a friend about The Ultimate Health Podcast. They will surely thank you later. You can use the envelope button below to email a friend or tell them about TUHP in person.


3. Join TUHP Facebook community (FREE). This is where we all stay in touch and ask questions in between episodes. Join our community.
4. Follow our adventures on our favourite social media platform, Instagram.


5. Download The Ultimate Health Podcast app (FREE). This way you'll have our whole library of episodes right at your fingertips. Download our iOS/Apple app or our Android app.
6. Share using the buttons below.
Thank you!