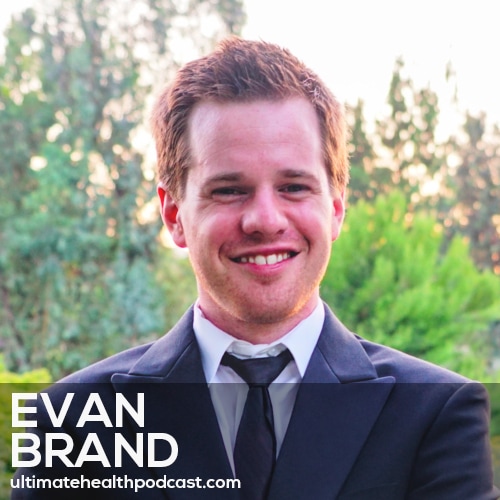 Evan Brand is an author, podcast host, and a board-certified holistic nutritionist, certified functional medicine practitioner, and nutritional therapist. He is passionate about healing the chronic fatigue, obesity, and depression epidemics after solving his own IBS and depression issues. Evan is the author of Stress Solutions, REM Rehab, and The Everything Guide to Nootropics.
In this episode, we discuss:
How Evan had a number of gut issues that hugely impacted his digestion
The gold standard test when it comes to detecting parasites
When probiotics can make you worse
The impact of H. pylori on HCL
The supplement graveyard
Do you have ridges on your fingernails?
Is it normal to feel worse before feeling better on an intensive gut protocol?
After age 20, you make less stomach acid and enzymes basically every year
Taking HCL and enzymes doesn't decrease your own production
We evolved to be outdoors
The impact of sunglasses on your adrenal hormones
Are you nature deficient?
What's a float tank?
Massively improve your adrenal health just by floating
When it comes to using a sauna… start slow and start low
New gasoline additives are much worse than lead
You shouldn't get sick from doing a detox
Are EMFs the new smoking?
Find you why, write it down, and then meditate on it
Show sponsors:
CoreChair <== Apply the code tuhpcc at checkout for your listener discount (free shipping in North America)*
Thrive Market <== As a new customer you get a free 30-day membership, 25% off your order, and free shipping (US only)*
Perfect Keto <== 20% off Perfect Keto products and they ship worldwide (free shipping in the US)*
Sunwarrior <== 10% off all Sunwarrior products & free shipping over $100*
Related links:
Evan Brand's website
The Evan Brand Show (podcast)
Diagnostic Solutions Laboratory – GI-MAP
Jonathan Wright – Why Stomach Acid Is Good for You (book)*
Floatation Locations
The Great Plains Laboratory, Inc.
Note: Links marked with an asterisk (*) are affiliate links. Making a purchase through these links won't cost you anything but we will receive a small commission. This is an easy, free way of supporting the podcast. Thank you!
How can you support our podcast?
1. Apple users, please subscribe and review our show on iTunes, we make sure to read them all. Android users, be sure to subscribe to our show on Google Play Music. Subscribers never miss any of the action 😉
2. Tell a friend about The Ultimate Health Podcast. They will surely thank you later. You can use the envelope button below to email a friend or tell them about TUHP in person.
3. Join TUHP Facebook group (FREE). This is where we all stay in touch and ask questions in between episodes. Join our community.
4. Our favourite social media platform is Instagram. Follow our adventures.
5. Download our Habits app for iOS. You choose the healthy habits you want to implement and maintain and our app will help keep you on track. Download Habits app*.
6. Share using the buttons below.
Thank you!