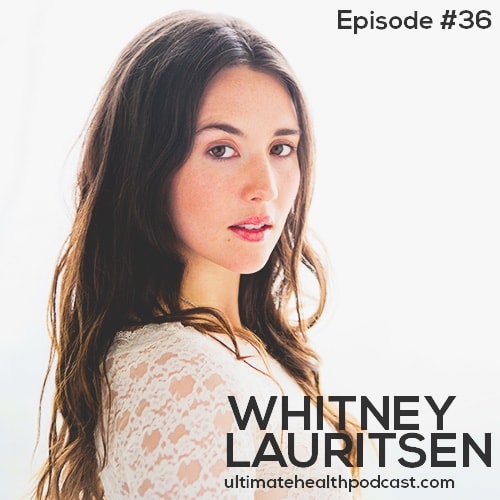 Today we are speaking with Whitney Lauritsen aka Eco-Vegan Gal. She is all about taking your health and the health of the planet to the next level! Whitney has a an extremely popular YouTube channel that features videos on wellness and sustainability. She recently started a podcast that focuses on building an online brand and how to monetize it.
In this episode, we discuss:
Whitney's journey into the world of wellness and sustainability
How the vegan diet positively influenced Whitney's health
Junk food veganism vs. eating a whole food vegan diet
Learning to read + understand ingredient lists on packaged foods
Strategies to decrease your ecological footprint on the world
Recycling isn't the answer
The many benefits of using a reusable glass or stainless water bottle
Exercise doesn't combat the negative effect of sitting all day
Tactics for keeping your life balanced
Whitney's atypical sleeping routine
It's important to get clear on what you want to achieve each day
Don't just follow the crowd
Sleeping really deep with magnesium
Healthy food doesn't have to be expensive
How to make shopping at Whole Foods super inexpensive
Start growing your own herbs
Becoming an online entrepreneur
Dealing with the ups and downs of business
Being driven by passion
The best strategy for achieving your goals
Related Links:
Whitney Lauritsen's website
Follow Whitney Lauristen on Facebook, Instagram, and Twitter
EcoVeganGal.com (Whitney's wellness site)
Eco Vegan Gal (YouTube)
Healthy Organic Vegan on a Budget (Whitney's ebook)
Forks Over Knives (documentary)
Cowspiracy (documentary)
The Cove (documentary)
Earthlings (documentary)
Unity (documentary)
Beth Terry – Plastic Free (book)
Pat Flynn – The Smart Passive Income Podcast
Tony Robbins (books)
Tim Ferriss (books)
Cobi Kim – Veggietorials
Chris Guillebeau – The $100 Startup (book)
Audible
Marie Forleo
Related Shows:
108: Lori Harder – Living An Authentic Life • Become A Master Of Your Schedule • Mentality Matters
150: Jairek Robbins – Live A Life Of Growth, Contribution, and Gratitude
151: Marie Forleo – Exercise Boosts Your Productivity & Creativity • Trust Your Intuition • Create Before You Consume
227: Andy Couturier – The Abundance Of Less • Enjoying The Process • Thinking For Yourself
268: Sarah Wilson – Zero Waste Cooking • Minimal Consumption • Start Thinking Differently
Note: Some of the links above are affiliate links. Making a purchase through these links won't cost you anything but we will receive a small commission. This is an easy, free way of supporting the podcast. Thank you!
How can you support our podcast?
1. Apple users, please subscribe and review our show on Apple Podcasts, we make sure to read them all. Android users, be sure to subscribe to our show on Google Podcasts. Subscribers never miss any of the action 😉
2. Tell a friend about The Ultimate Health Podcast. They will surely thank you later. You can use the envelope button below to email a friend or tell them about TUHP in person.
3. Join TUHP Facebook community (FREE). This is where we all stay in touch and ask questions in between episodes. Join our community.
4. Follow our adventures on our favourite social media platform, Instagram.
5. Download The Ultimate Health Podcast app (FREE). This way you'll have our whole library of episodes right at your fingertips. Download our iOS/Apple app or our Android app.
6. Share using the buttons below.
Thank you!