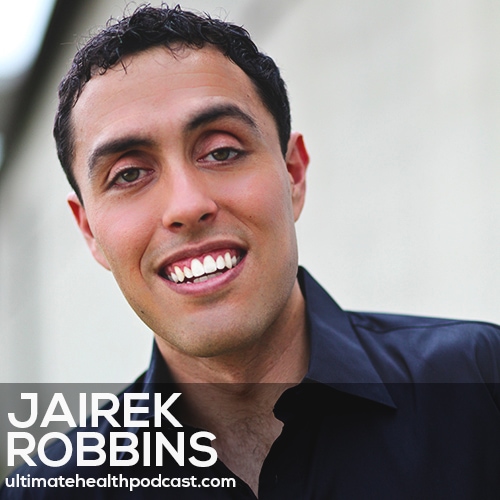 Jairek Robbins is a decorated performance coach and lifestyle entrepreneur who has applied his innovative methods to living a life of adventure, philanthropy, and entrepreneurship.
His personal journey has included travelling the globe by ship, helping build schools and houses in multiple countries, and working as a volunteer in underdeveloped regions.
Jairek is the author of Live It!: Achieve Success by Living with Purpose.
In this episode, we discuss:
Unlearning the barriers that keep you from being authentic
What was the pressure like growing up having Tony Robbins as a Dad?
Testing things on himself (Live It!) before coaching others
Embracing the moments in life that suck
Learn to love life how it is
Change your life by travelling and living the life of other people
Jairek's near death experience after contracting malaria
Life supports that which supports life and life eliminates that which is no longer needed
Defining a life worth living
3 questions at the end of life… Did you really live? Did you really love? Did you really matter?
Writing out your ideal day
Stop looking for what's next and enjoy your successes
The three opponents (hint: you're one of them)
The minors vs the majors
You're rewarded in public for what you practice in private
Gratitude boosts your happiness, satisfaction, and fulfilment with life
Your relationships are either growing or dying
Have you put together your long-term savings plan?
Jairek's morning routine
Learn it, live it, give it
Show sponsors:
Sunwarrior <== 20% off all Sunwarrior products & free shipping over $50 (US only)
Raw Elements <== 10% off all Raw Elements products – Apply the code TUHP at checkout (free shipping over $100)
Related links:
Jairek Robbins – Live It! (book)
Jairek Robbins' website
Follow Jairek Robbins at Facebook, Instagram, and Twitter
Semester At Sea
Restless Development
Brendon Burchard
Angela Duckworth – Grit (book)
Carol Dweck – Mindset (book)
Madonna Buder
Muse mediation headband
Spire
Related episodes:
321: Neil Pasricha – You Are Awesome, Intentional Living, Becoming Anti-Fragile
305: Dave Asprey – Game Changers, Practicing Gratitude & Forgiveness, Holotropic Breathing vs. Ayahuasca
265: Neil Pasricha – How To Be Happy • Untouchable Days • Find Your Authentic Self
114: Sean Croxton – The Pursuit Of An Authentic Life
108: Lori Harder – Living An Authentic Life • Become A Master Of Your Schedule • Mentality Matters
Note: Some of the links above are affiliate links. Making a purchase through these links won't cost you anything but we will receive a small commission. This is an easy, free way of supporting the podcast. Thank you!
How can you support our podcast?
1. Apple users, please subscribe and review our show on Apple Podcasts, we make sure to read them all. Android users, be sure to subscribe to our show on Google Podcasts. Subscribers never miss any of the action 😉
2. Tell a friend about The Ultimate Health Podcast. They will surely thank you later. You can use the envelope button below to email a friend or tell them about TUHP in person.
3. Join TUHP Facebook community (FREE). This is where we all stay in touch and ask questions in between episodes. Join our community.
4. Follow our adventures on our favourite social media platform, Instagram.
5. Download The Ultimate Health Podcast app (FREE). This way you'll have our whole library of episodes right at your fingertips. Download our iOS/Apple app or our Android app.
6. Share using the buttons below.
Thank you!